Bocuse d'Or Team USA Now Accepting Applications; Most US Culinary Talent Tied Up In Mentor Pool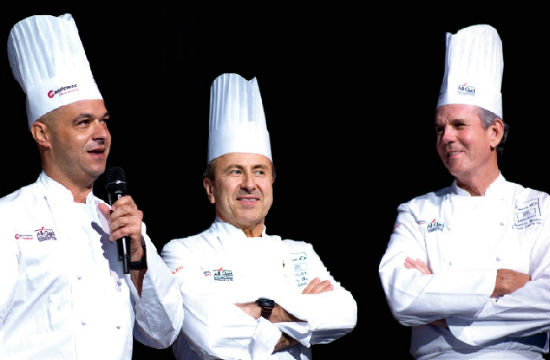 This whole Bocuse d'Or thing still kind of confuses us, but it's our job to relay the facts, so here they are: The Bocuse d'Or USA Foundation is now accepting applications for the 2015 competition (it's held biennially). And if you're a US citizen over the age of 23, have had at least three years of experience in a fine dining establishment, can fill out this application form, are capable of writing a one-page essay describing your qualifications and motivation to represent the USA in Lyon, and can provide two letters of commendation and a current dinner menu from your present employer, then you've got a shot at winning a trophy depicting Paul Bocuse standing on top of the world. (No, seriously, that's what the trophy looks like.)
Of course, you'll go through a rigorous training regimen with American coaches/mentors Thomas Keller and Daniel Boulud, probably holed up in a secret cave somewhere, and we'll bestow upon you the proper superhero persona, once one becomes clear based on your experience.
There's also a culinary council forming the Team Support System, made up of Gavin Kaysen (former competitor and head coach), Grant Achatz, José Andrés, Paul Bartolotta, John Besh, Scott Boswell, William Bradley, Jonathan Cartwright, Tom Colicchio, Scott Conant, Traci Des Jardins, Trey Foshee, Chris Hastings, Shaun Hergatt, Timothy Hollingsworth, Daniel Humm, Eli Kaimeh, James Kent, Gabriel Kreuther, Emeril Lagasse, Corey Lee, Matthew Lightner, Barbara Lynch, Michael Mina, Roland Passot, Jacques Pépin, Anne Quatrano, Paul Qui, Richard Rosendale, Alain Sailhac, André Soltner, Susan Spicer, Frank Stitt, Ming Tsai, Michael Tusk, Bryan Voltaggio, and Alan Wong.
Here's a question: why aren't a few of those counselors being sent to represent the USA to begin with? Nowhere on the Bocuse d'Or USA Foundation website, or in the lengthy 10-page document of rules and regulations, is a certain level of amateurishness mandated in order to rep Team USA.
Also, considering the Bocuse d'Or's frustration with how the US doesn't care about The Almighty Culinary Olympics (because the US never wins, and we only care about things we can win at; see: soccer), demonstrated by the fact that Paul Bocuse asked Daniel Boulud who asked Thomas Keller to groom teams starting in 2008 for a snowball's chance in hell at medaling, we're really confused about why they don't just pick Grant Achatz a sure thing to compete and win.
Are there rules against "professionals" competing? What constitutes a professional? Richard Rosendale had his own restaurant when he competed last year. They gave the Team USA spot away to the winner of a random Top Chef challenge during a Season 6 episode, if that's any indication of how seriously we were taking the competition. (That winner was Kevin Gillespie, who, FYI, pulled out of the Bocuse, citing a lack of preparedness.)
If the goal is putting the US on the podium to inspire a sense of excitement about the competition stateside, why not just throw in someone who can dominate? Why are we pussyfooting around with applications and "Team USA semi-finals" and essay contests? Are there not professional athletes who compete in the Olympics? Are we missing something?
RELATED:
WATCH: Thomas Keller Trains Richard Rosendale To Dominate The Quickly-Approaching Bocuse D'Or
Richard Rosendale Trains For Bocuse D'Or In A Nuclear Bunker
To Win The Bocuse d'Or, Richard Rosendale Is Slowly Turning Into A Superhero
Have a tip we should know? tips@mediaite.com