Mario Batali Thinking About Boston Location for Eataly in Faneuil Hall; Please Do That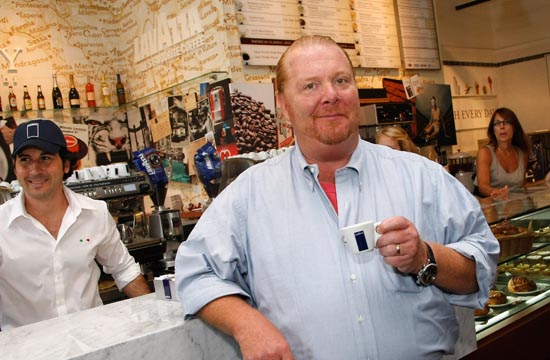 To all those Bostonians shuffling around in their week-old Dustin Pedroia jerseys and scally caps and boxes of cannolis from Mike's Pastry, there's cause to rejoice: Eataly might be coming to Boston, because a scuggy town full of riots and Red Sox needs a Mario Batali superstore/restaurant collection to class up the joint.
The Boston Globe reports that for the past year, the Eataly Group has been scoping out the Boston area for a 30,000 square-foot space for Batali's Italian food piazza/Wonderland. While they've been searching in the Back Bay and other areas for the appropriate space, which would require foot traffic and walkability, rumors have it that Mr. Mario-gorium's Italian Emporium might be situated in Faneuil Hall, a.k.a. a beautiful piece of American history that's been transformed into a run-of-the-mill shopping mall/tourist trap.
Batali hasn't had much success in Boston thus far — he's had trouble opening his restaurants Babbo and Enoteca in the area — but OMG, an Eataly in Faneuil Hall would be amazing. An Eataly in Boston wouldn't be terrible, but an Eataly in Faneuil Hall — specifically, an Eataly in the old Quincy Market Building — would actually make Boston residents go to Faneuil Hall.
That never happens. Seriously. The only people who ever go to Faneuil Hall are tourists who want to see a man dressed as Sam Adams recite the "Give Me Liberty or Give Me Death" speech (even though it was Thomas Paine who said that, you gullible morons), and then go shopping at the Gap, because that's what Colonial America was like.
The developers are aware of this reputation, and believe a Faneuil Hall Eataly will change that:
Mike Tesler, the president of Retail Concepts, a Norwell consulting group, called the potential Quincy Market location not just a home run but a "Big Papi grand slam" for Faneuil Hall, a shopping area that has lost its luster over the years. [Editor's note: Of course there would be a Sox reference. Of course.]

"This could make the area more attractive and drive some of the cachet back," he said.

"For people who work in nearby towers, this would add a whole new element for lunch. It would bring the people in from the suburbs because it is such an interesting, unique, and exciting experience."
Yes! Kick the generic Chinese restaurants out of Faneuil Hall! Put an Eataly in there! We are so for this idea that we're giddy, as if we'd just won the World Series at home for the first time in 95 years OH WAIT.
[Editor's note: I love you, Boston.]
RELATED:
Landlords Kick Todd English Out Of Flagship Restaurant Olives, English Pretends It Was His Idea All Along
odd English Must Pay Bostonians $1 Million Or They'll Tar And Feather Him
Tony Maws To Open Second Boston Restaurant, Near Julia Child's Old House
Have a tip we should know? [email protected]