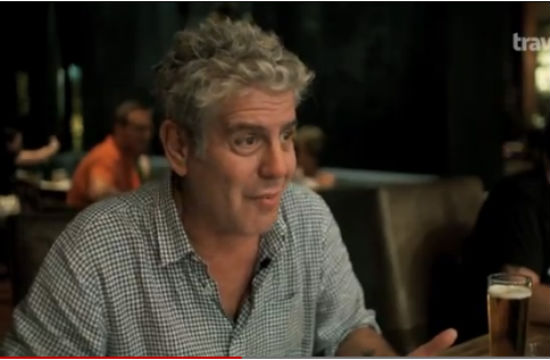 And now he's a real estate mogul, too: author, television host, and chef Anthony Bourdain revealed to the New York Post that he had entered into a partnership with fashion entrepreneur Stephen Werther to open a massive, Signaporean-style street vendor complex in Manhattan. If successful, the Post speculates, Bourdain and Werther may take the concept nationwide.
Does this sound like a street food version of Eataly? According to Bourdain's statement to Eater NY, that's probably exactly what it is:
I am indeed working on this project -— carefully assembling a dream list of chefs, operators, street food and hawker legends from around the world—in hopes of bringing them together in one New York City space. As the greatest city in the world, I've long felt that we should have the kind of delicious, diverse food centers that Singapore ( for instance) enjoys. And, in fact, it is my hope that an important component of this project will be representatives of Straits hawker masters…If nothing else, I hope to soon be able to enjoy a really good Chicken Rice in NYC.
The unnamed complex, currently does not have a location nor a set opening date — but in the meantime, he and Werther will taunt the public with pop-ups showcasing the market's concepts.
[NYP via Eater]
RELATED:
No Reservations Is No More: Anthony Bourdain Lands New Show With CNN
White Person Enlists Other White Person To Write Book On Yellow People's Street Food
WATCH: Anthony Bourdain Regularly Given Free Cocaine By Aspiring Chefs
Have a tip we should know? tips@mediaite.com