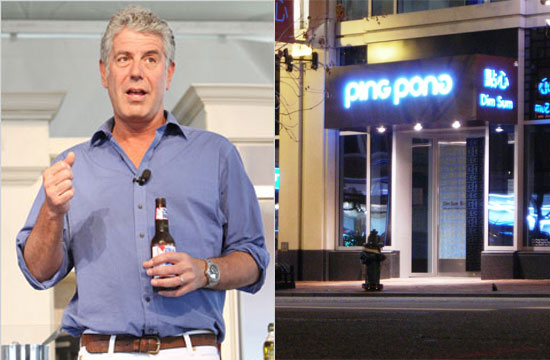 It's time for your daily fake endorsement of the day! Today's culprit is a multinational dim sum chain restaurant named Ping Pong Dim Sum, whose publicist fed a story to gossip columnist Nikki Schwab at the Washington Examiner claiming that at last night's Capital Food Fight, Anthony Bourdain proclaimed his love of the totally not-racist restaurant and its definitely never-frozen dumplings. (Full disclosure: I worked at Ping Pong briefly earlier this year during a short period of aimless, misspent youth.) "You all should go to Ping Pong in Chinatown for dumplings," he allegedly told the crowd.
Except, according to Bourdain himself, he never "popped by the restaurant on Friday where he enjoyed a glass of wine at the bar" (according to the cached article.) "Your examiner piece about me and "Ping Pong' is entirely erroneous," he tweeted to Schwab. "I have no knowledge of the place."
The suggestion that he'd even gone was "a clear fabrication. DC yesterday. Did DCCK event then snack at Jaleo. Period. Never mentioned this place. On stage or ever."
Schwab, to her credit, apologized profusely and immediately took the piece down, noting that the restaurant's publicist had tipped her the story. Managers at Ping Pong Chinatown directed us to the restaurant's media relations spokeswoman, Elise Goldberg. Goldberg did not return our requests for comment.
Though we're aware that Bourdain often has fake endorsements attributed to him, it's difficult to believe that any restaurant in a major metropolitan area thought they could get away with it. We will also add that, compared to any city that has a Chinatown with more than 500 actual Chinese residents, DC's dim sum scene is severely anemic.
As for Bourdain's opinions on the restaurant, likely gathered from friends in DC's restaurant industry, he's willing to give them the benefit of the doubt. Kind of: "I am quite certain there is no truth to the story that they use ground hamster in their dumplings. #notPingPong!"
Have a tip we should know? tips@mediaite.com