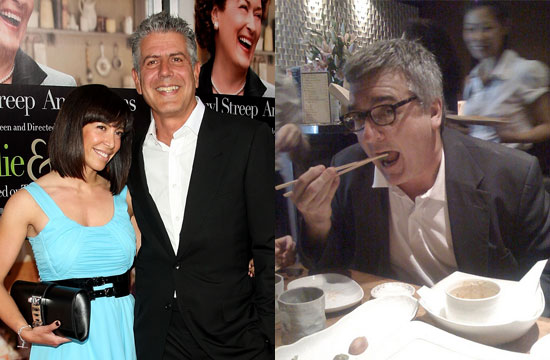 John Curtas runs EatingLasVegas.com, a site where he writes about food when he's not writing about food for those other publications he writes for. But according to his stalkees subjects Anthony and Ottavia Bourdain, Curtas is not so good at being an internet detective.
Last week, Ottavia's food diary of ladylike manliness contained a reference to a celebrity chef-owned steakhouse, and the mention sparked endless speculation over who could have served the Bourdains the worst steaks possible. So after learning from a source that the Bourdains stayed at the Venetian, Curtas put on his deerstalker and monocle and got to work:
We knew "Mr. No Reservations" was in town two weeks ago, when text messages started showing up from diners who saw them. On the evening of July 5th they dined at [Mario Batali's] Carnevino. Tony ordered a "riserva" rib-eye and the rest of his party (including his wife) took some bone-in filets and lots of Negronis (although she was pounding Amarettos, as is her wont). Our spies told us they didn't order much (like Ottavia said), and seemed to be enjoying themselves. The bill was presented (what, no comp for food royalty?) and paid without comment or complaint.

ELV knows from experience that no one, no one, orders the "riserva" steaks here without a complete recitation of the aging process, the funky flavor characteristics (exquisite, to our buds), and the cooking technique (not grilled at high temp or charred because the broken-down proteins can't take it).
Ergo, he concluded, chewing on his bubble pipe, it was Mrs. Bourdain in Carnevino with the Amarettos that killed the taste of the delicious riserva steak, which, he sniffed, "are an acquired taste that Mrs. Bourdain obviously didn't acquire." And furthermore, their denial that Carnevino was responsible was a conspiracy, akin to "the Nixon White House," to help Mario Batali and Joe Bastianich save face!
OR WAS IT???
Dear John Curtass of Eating Las Vegas. Your entire, idiotic column is based on a false premise: we did not stay at the Venetian/Palazzo.

— Anthony Bourdain (@Bourdain) July 17, 2012
By both of their accounts, they did go to Carnevino, and they both tweeted that they loved it. And Ottavia, though she really likes violence and fights, stated flatly that she wasn't going to be cruel: "If I choose not to name the restaurant, it's to avoid deliberately embarrassing them. I am not a critic. I felt no responsibility to tell readers of a silly personal journal who the guilty party was."
Curtas, for his part, is doggedly trying to find out who served the bad steak (despite being barraged with colorful Bourdain insults, like "fuck-nut" and "dipshit"), while we watch his search with the interest of observing a particularly vigorous game of Clue.
(Besides, Mr. Curtas, after reading that carnivorous Grub Street article, why wouldn't Ottavia Bourdain eat steaks five nights in a row?)
Have a tip we should know? tips@mediaite.com