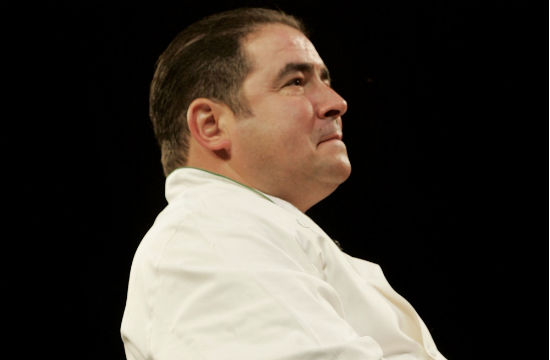 Remember when Emeril Lagasse had to cautiously defend BP, the company that single-handedly polluted the Gulf of Mexico in 2010, thanks to the revelation that Top Chef had accepted money from a BP-backed recovery fund? He was pretty civil about it, too! And this is how BP has repaid him: by claiming, in a full-page ad printed in Thursday's New York Times, that Lagasse's restaurants were abusing the oil spill settlement program.
The Times-Picayune identifies the unnamed "celebrity chef" in the ad as Lagasse, and it's not that hard to tell just by reading it — especially the part where Lagasse's restaurant group publicly outed themselves:
In the ad — the latest in a series from BP — the company asks "would you pay this claim?" and outlines the story of an unnamed "celebrity chef" whose restaurant management company "was awarded more than $8 million" based on a "fictional loss" in its finances that year. It holds up the claim as an abuse of the settlement program.

But on Friday, Emeril's Homebase management firm and the Deepwater Horizon claims administrator both insisted the claim was legitimate under the terms of the BP-approved settlement agreement.

"Emeril's Homebase filed a claim in accordance with the settlement agreement that was set forth by BP and administered by the federal court in New Orleans," a company spokeswoman said. "We have not received any payment on the claim."
The tricky part comes in the (technically correct) claim that Lagasse had licensed his brand name to Martha Stewart Living Omnimedia the year of the oil spill, exchanging the rights to his cookware, television shows, and books (though not his restaurants) for many millions of dollars. But technically (yes, we know), Lagasse's claim meets all of the criteria that BP themselves agreed upon when they drafted the settlement deal:
Blaine LeCesne, a Loyola University tort law professor, said it is "highly misleading and unfairly disparaging" for BP to point the finger at a claim found legitimate under the settlement terms, whether or not the damages can be proven to be directly oil spill-related.

"There's no such thing as a fictional loss if the loss is shown under the eligibility formula that they consented to," LeCesne said.
An international oil conglomerate vs. Emeril Lagasse. Whoda thunk.
RELATED:
UPDATE: Treme Creator David Simon & Andy Cohen Trade Barbs Over BP's Top Chef Money
Emeril Lagasse Defends BP: 'Those Guys Stepped Up To The Plate And They Did What They Had To Do'
Tom Colicchio Loves New Orleans Cuisine, 'Appalled' By Those Who Want To Abandon It
Have a tip we should know? tips@mediaite.com