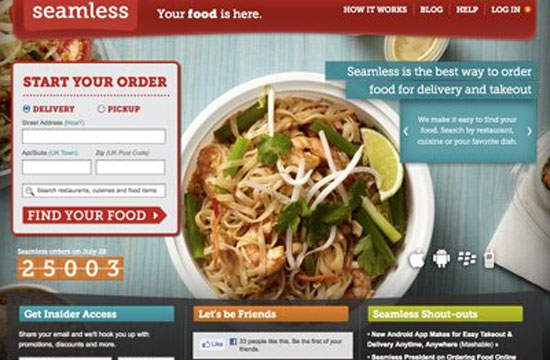 In the wake of Twitter's successful initial public offering (IPO) earlier this week, Jonathan Marino of The Deal reported today that online food delivery service Seamless is considering an IPO as well, either in 2014 or 2015.
According to various sources who spoke to Marino, Seamless, which recently completed a merger with competitor GrubHub in August and brought in $85 million in revenue last year, could have a post-IPO market cap between $3 and $5 billion. (A source "familiar with the financials" estimated the combined revenues of Seamless and GrubHub at $200 million.) Seamless so far has refused to comment, which is par for the course in IPO-land.
We spoke to Marino about the possible implications of a Seamless IPO, and what this means both for restaurants and for tech companies. In short, Marino believes that Seamless is raising capital to expand into countries outside the US and UK, and that this move would help fend off their one major competitor, Yelp!.
The Braiser: Is there any coincidence that this story broke just as Twitter completed a very successful IPO?
Jonathan Marino: It's crystal clear that the IPO market is the hottest it's been in a very long time. It's probably why you saw [virtual payment system] Square considering going public in the Wall Street Journal, and I feel like they're trying to take advantage of the IPO window. But I don't think that's exclusively tied to Twitter, as it is there being tech companies that are revenue-positive, which will play very well to shareholders.
What do you think the funds are being raised for — to pay back investors, or to raise capital and expand?
There's a definite need for expansion for Seamless. They're only in the US and the UK, and there's definitely an international market they can access, like any other technology company — [people] can order food from a handset, or a smartphone….And also, much like Groupon, when you're courting potential clients, it's a very labor, cash, and personnel-intensive procedure. When you're trying to expand in the future, it's going to be integral to have cash in hand.
Separate from that is the fact that they've got venture capital investors who've been with the company for a very long time, for the past ten years…There are different levels of investors who have been with the company for more than ten years. I believe Seamless will be about ten years old at the time of the IPO.  Once you get up to that level in the company's age, the earliest investors are probably ready to cash in.
You brought up Groupon, whose business model and financial history hasn't been the most stable, especially since its IPO. Does Seamless face any similar existential challenges?
I feel like one of the reasons that Groupon as a public company was, in a very technical sense, a failure, was because there's a very low barrier to entry for its particular business. LivingSocial and everybody else came out and offered a Daily Deal as soon as Groupon had critical mass and trajectory. For Seamless, one of their biggest strengths is that they're not just a household app that people like you or me like to use to order takeout. Their strength lies in the fact that they also have long-standing, successful relationships with corporate clients, who order lunch for a floor or an entire building. That's a huge revenue driver for them, because they're charging either per order, or they're charging on a percentage basis. But once you're working with an entire business, and can deliver food to an entire building — that's very difficult for something like a start-up to emulate.
The only existential threat, I feel, is Yelp!, because they're trying to build a similar business to what Seamless is doing. Well, they're not going to be able to take a meaningful percentage of that corporate client base…I think if they [Seamless] can keep the corporate clients, that will determine their success as a public company. [Ed. note: Yelp! went public in 2012.]
Do you have any sense as to when Seamless will file their Form S-1? [Ed. note: This is the initial registration form that all companies must submit to the Securities and Exchange Commission, detailing their business practices and finances, before they're allowed to trade securities on the national market.]
I wasn't given a sense of that. My sources say that the company still has a "long ramp" to their filing, which means they need a lot of time to get their stuff right. …I would  be surprised if they didn't have their IPO paperwork in early, in 2014. Once you get to the point where your paperwork is in, it's still going to take several weeks to go public [after that].
Do you think they'll file their paperwork confidentially, like Twitter? [Ed. note: Sometimes companies like to keep their paperwork secret, in case their IPO falls through.]
That seems to be the way that other hot technology companies are doing this. It would behoove them to do the exact same thing.
And what's your sense of the company's valuation?
The company's revenue is up in the range of $200 million a year. Even for companies that are not as profitable as Seamless, at the time of an IPO, 20x [revenue] isn't a terrible metric. I would peg them at around $4 billion when they go public. It wouldn't shock me if it was substantially more than that.
This interview has been edited for length and clarity.
[h/t The Deal]
RELATED:
How Seamless Defied Sandy And Saved Everyone In The Northeast From Starvation
Google Co-Founder Sergey Brin: I Funded The Lab-Grown Hamburger
WATCH: Danny Meyer Refuses To Put Shake Shack On Stock Market
Have a tip we should know? tips@mediaite.com