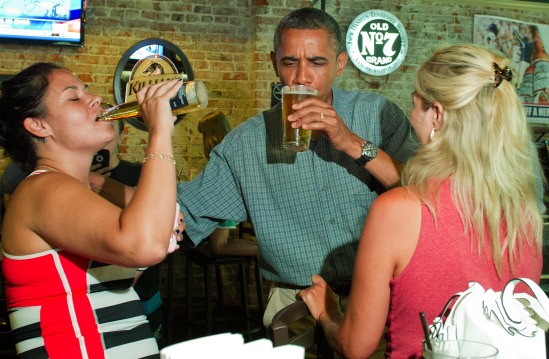 Any ale that doth pass the lips of our Commander-in-Chief must be of the finest quality, believeth the groundlings who demanded that the White House release the recipe for President Barack Obama's Honey Ale. And after a petition successfully gathered enough signatures, the beer was released to the public! Huzzah!
But hold up, the major publications can't just pontificate on the beer's fine qualities. They need to validate their opinion by talking to some experts. The experts of choice include hipster brewers like Garrett Oliver, brewmaster of Brooklyn Brewery, and Colorado Governor John Hickenlooper, whose Wynkoop Brewing Company sparked the microbrewery craze. (Colorado, why are you crazy AND awesome???)
When approached by the Atlantic, Hickenlooper thought that the hive-possessing White House kitchen was going a bit bee-crazy. "It's none of my business and I don't want to criticize the White House chef, but I think maybe they could use a little less honey. One recipe I'm pretty sure would be better without the honey and the other one I think would be. A little bit less honey would be nice."
Oliver, however, thinks that the beer should use barley and hops grown in the White House garden, and using barley mash instead of malt syrup. (He did grant that nearly all home brewers use malt syrup because barley mash is too labor-intensive to make on its own, so "I'm happy to give the chefs a break here,'' he told the New York Times.) But what, Mr. "Author Of The Oxford Companion to Beer," would it taste like?
"Light, crisp and dry, with some bready flavors from the malts, floral notes from the honey, and fruitiness from the British ale yeast…Altogether pleasant, great with seafood and salads, goat cheeses, or hanging out in the sunshine in the Rose Garden.''
Oh, Garrett Oliver. We love how you can get us buzzed with words.
[h/t The Daily Meal]
Have a tip we should know? [email protected]