Brooks Brothers to Open Steakhouse Chain for Manly Men (We're Sorry, It's A 'Beefery')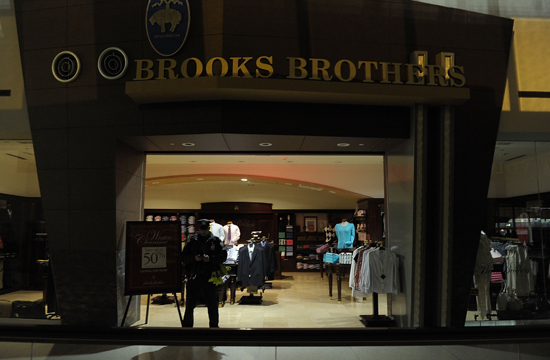 Elegance. Class. Prestige. 110-count wool. Richly oiled leather. F. Scott Fitzgerald. Imagine if steak tasted like that, imbued with the scent of whiskey and fine oak paneling. And this is why Brooks Brothers is opening a steakhouse!
According to the New York Post, the legendary menswear company decided to re-purpose a space near its Madison Avenue flagship for the steakhouse, which used to be a store where Brooks Brothers sold women's clothing. [Ed. note: But what if women want to wear seersucker suits? Where are we gonna get those now? Stop being sexist, Brooks Brothers; girls wanna wear cufflinks, too.] 
However, insiders say that the restaurant, tentatively named Makers and Merchants, will be the first of what could be a nationwide chain of Brooks Brothers-themed steakhouses:
Proximity to Brooks Brothers' history-steeped flagship thematically links the restaurant to its smartly woven, conservatively tailored men's suits, shirts and ties. The beefery — named for the company's slogan, "Makers and Merchants Since 1818" — will occupy three levels, which Brooks Brothers took over from J. Press in 2008.

While there's no word yet on who will design it, expect the same rich wood paneling generations of shoppers have known at the flagship.
First: No. Don't use the word "beefery." That's worse than "eatery."
Second: We are very excited for this concept, for we have never, ever, ever, eaten in a steakhouse that had leather seats, rich wooden paneling, and high-powered executives wearing Brooks Brothers. Never. Ever. Ever.
Third: Nope, we're still not over the use of the word "beefery."
[NYP via Grub Street]
RELATED:
Trump Steak House In Las Vegas Shut Down After 50+ Health Violations
Bourdain Slams Las Vegas Food Writer Over Mystery Bad Steak
Dirt Candy's Amanda Cohen Opens Up Man Candy, A Manly Restaurant For Men
Have a tip we should know? tips@mediaite.com