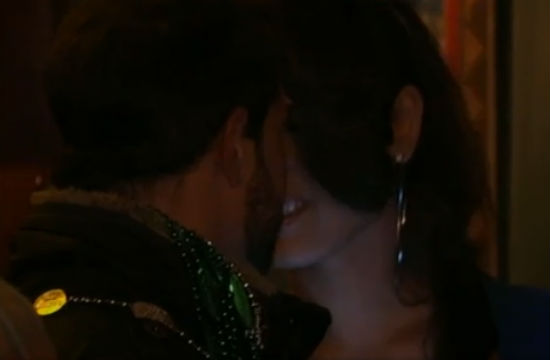 Trans woman and Ru Paul's Drag Race runner-up Carmen Carrera is petitioning for an apology from TLC after a prank appearance in last night's episode of Cake Boss went awry.
The prank: Cake Boss Buddy Valastro has Carrera flirt with Cousin Anthony in a bar, complete with dancing, number exchanging, chaste cheek-kisses, and possibly even a lip-lock. Basically, she had Anthony begging for it.
Then, Buddy pulled Anthony over and dropped the bomb, "That's a man, baby!"
Gender identity politics aside for the briefest of moments; can we discuss how offensive Anthony's "flirting" with women in general is? When has cornering a woman you just met in a bar and commanding her to "give you a little kiss" or challenging her to "go ahead" and kiss you ever come off as sexy and not skeezy. Okay, fine — excluding certain gentlemen who exude a very specific 50 Shades of Grey-esque charm, which we ASSURE you, Anthony does not. Hmm? Never. End aside.
We kind of can't believe TLC even ran this. (Shit would NEVER fly on Bravo, at least not without Andy Cohen swiftly schooling everyone involved on the reunion show.) What's interesting is Carmen's beef with the clip. She knew she was being set up to pull a "Surprise! She's a TransGirl!" prank. Her issue was with the semantics of Buddy's reveal. She prefers to be referred to as "born a man" or "used to be a man" and says that calling her "a man" is utterly ignorant, writing on Facebook, "I made it VERY clear to the producers on how to use the correct wording before agreeing to filming this but instead they chose to poke fun and be disrespectful. Thats not what Im about!"
Gawker has the clip, the entire Facebook rant from Carmen, and a pretty succinct distillation of our thoughts as well. But the foulest part of the story, in our opinion, were the tweets Anthony sent after the episode aired (which, of course, have since been deleted).
"Dude, you made out with a dude," one fan tweeted.
To which Anthony replied, "hahaha nah it give me a kiss on the cheek."
It. IT. It?! Alright, readers, NOW you can descend upon the comments. We appreciate you silently steaming till you reached the end of the post.
Oh, and for good measure, Anthony verrry sincerely tweeted this last message after deleting the previous ones: "Hi all, I apologize for my ignorance. @carmen_carrera is a beautiful woman & i respect her greatly. no harm intended. My apologies"
Uh huh.
[Gawker]
Have a tip we should know? tips@mediaite.com