Can We All Just Agree Now That Food Festivals (Even the Well-Intentioned Ones) Are Pointless?
Are Food Festivals (Even the Good Ones) Pointless?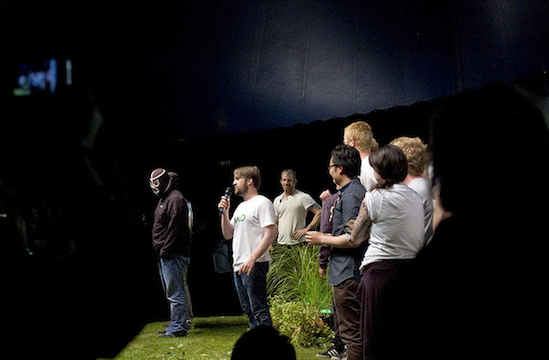 In today's installment of "what can we possibly criticize about the celebrity chef movement," we find that Eater has already done it for us — well, kind of.
True, we find most everything that comes out of the MAD symposiums to be fascinating. Some of the announcements are cool. Some of the talks are cool. It brings up some healthy debate (OK, so maybe that's on the blog, but still). And we get that we should basically be bowing down to the gods of the food world in order to some day attend "the Oscars" of the food world and rub shoulders with the Redzepis and the Changs and the Atelas. But even so, as Eater points out in an an in-depth feature of the evolution of the symposium, that doesn't mean that even MAD can escape some of the major criticism that's usually lauded at, we don't know, Guy Fieri.
Because yes — the last three years of MAD symposiums have created a breeding ground of the same old high-sweeping activism that's out of touch with reality, says Eater. And they still rely on the same big-name chefs, and even some media stunts, to draw attention. (Re: Alex Atela decapitating a live chicken at last year's MAD3.) And they attract the same crowds and same media covering the same ol' thing, as they do at just about every big-name food festival and conference in the world. And they still feel like a boy's club (but can we even really be surprised by that criticism any more?). But hey, Rene Redzepi still wants to make MAD a true forum for the great debates and issues to be discussed, a place where chefs of all fame and stature can learn from each other, a real "meeting space."
And to Redzepi's credit, MAD has clearly separated itself from the pack of same ol' food conferences. MAD has no outside financing, it invites little-known chefs to speak, it sources nearly all of its material online so that line cooks and those who can't afford to go can still have a piece of the experience. But can we all agree that even the best-intentioned food festivals are mostly breeding grounds for privilege and loftiness and hoity-toitiness (because that's a word) at the end of the day? There's a reason that the word "foodie" has become an object of derision. It applies to no one better than the chefs and media (ourselves included) and tastemakers, who may hope to use their celebrity status for a greater good but at the end of the day are just talking heads. A smoking mirror — on outward appearance a force of change, and on the other side, another blog post, another Tweet, another networking opportunity. There's a reason many believe, like the guys behind Joe Beef, that the food world is "so far removed from reality."
Still, Eater wants to believe that if any food festival can incur change, it's MAD. In no loftier words, the symposiums have "been deeply relevant to many of its attendees' lives," the piece concludes. Because even if we bash and bash and bash on the big-name celebrity chefs — some of whom, again, we believe may have the best intentions in the world — for their lack of insight, they're still the only chefs that any one pays any attention to. From Eater:
When David Chang ferments, the world ferments. Chefs are influencers, thought leaders, and celebrities. They might not have asked for it, but a lot of them sure haven't shied away from it. Redzepi and all of these other guys are luxury brands. What they advocate might not be attainable, but it's an object of aspiration for many of their followers.
And don't worry, the cycle of never-ending, highly important food festivals, and MAD, will go on.
That'll be especially true of next year's symposium. Addressing the audience at the end of the 2014 event, Redzepi said that next year's gathering is going to be about action. When he and I spoke later, Redzepi told me that the shape of that action is still a bit unclear. He and his team have a lot of ideas—"some of them are very wild"—for a way that their MAD community can come together on a project with a purpose. He stayed tight-lipped on what exactly those ideas might be, but he was clear on his intent to experiment with change. "We believe that we're going to try something bold," Redzepi says. "We're going to see if we can risk everything."
We guess that we, too, will be waiting on bated breath to see if big risk can amount to big change.
[Eater]
RELATED: ere's the Much-Talked About Chris Cosentino Mad4 Talk on the Pitfalls of Food TV
The True History of Celebrity Chefs, As Told By a Yale Professor
The Only Tweet You Need to See From the #Mad4 Symposium
Have a tip we should know? tips@mediaite.com