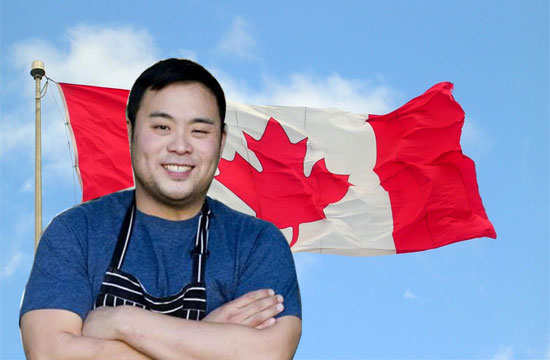 By all accounts, David Chang's debut in Toronto, Ontario has been a complete success, with fanatics queueing for his four restaurants in the Shangri-La Hotel like they were waiting for iPhones. But let's not chalk up his success to the universal appeal of ramen, the world peace-achieving structural integrity of a perfect pork bun, or the Gangnam Style joy dances brought on by garlic-ginger sauce.
No, the reasons that Canadians love David Chang so much, according to the Canadian Business Informer's  Chris Johns, is because he's so humble and polite.
Many celebrity chefs before Chang have tried to establish themselves in Toronto, and many have failed. Restaurants by Gordon Ramsay and Daniel Boulud famously crashed in Canada, the former leaving a trail of lawsuits in his wake. (Boulud recovered and plans on opening two more restaurants in Toronto.)
But Chang, according to Johns, doesn't have the "braggadocio" of Ramsay or the swagga of Boulud. Instead, his secret weapon is his ability to remain humble despite the Momofuku empire's span across the world:
Toronto's enthusiasm around Chang's arrival has been described as "Momofuku mania." And yet the chef doesn't appear to bring an outsized personality. Instead he's soft-spoken and humble: "We're going to get there, and things are going to evolve," Chang has said. "I don't know Toronto nearly as well as anybody that lives there…so I have a lot to learn, as we all do at Momofuku."
While the humble approach is definitely a smart move towards winning the hearts and minds of Canadians (apart from playing Bryan Adams songs), we do have to warn you about one thing: never, ever, ever take sides when it comes to hockey. Canadians get fucked up on that.
Have a tip we should know? tips@mediaite.com