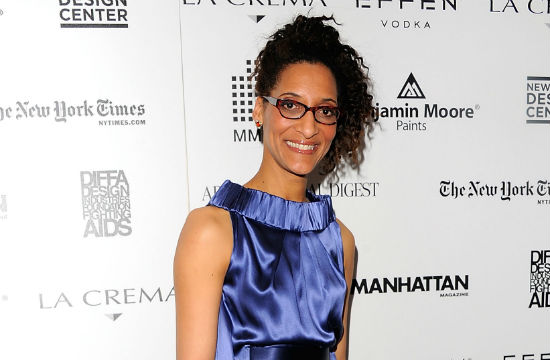 After hanging out in House Beautiful Magazine's deliciously air-conditioned Kitchen of the Year display set up in Rockefeller Plaza, watching the rascally and charming Carla Hall season slaw with "a bowl full of compliments" (AKA, salt), and nibbling on one of her ridiculously good BBQ pork sliders, I feared I would turn into a pumpkin before I even got to the interview portion of the evening. Luckily I stayed intact as a human lady until my dreamy walk home.
The Top Chef finalist, All-Star competitor, and All-Star Fan Favorite has gone from entering TC as the (gasp) catering underdog to co-hosting smash foodie talk show The Chew alongside the likes of Mario Batali and Michael Symon. Oh, and she also gifted the nation a new catchphrase: HOOTIE!
In my chat with the Nashville native, who now commutes from DC, where her family lives, to New York to tape The Chew, she was kind enough to walk me to a quiet, private spot, away from all the Kitchen of the Year action (she was very excited by the Induction Stove-Top Of The Future…I'd later watch Marcus Jernmark of Aquavit fame struggle with it and pooh-pooh High Tech Fancy Things, but that's tomorrow's interview), plop down on the same couch as me, invite me to dinner, answer every single one of my questions thoughtfully, and remained open enough to both laugh and cry.
Check out our Q&A to read more about Carla dishing on her fellow Top Chef alums, her not-so-secret crush on Jamie Oliver, and the question that made her cry.
The Braiser: Obviously, we love you. And congratulations on The Chew's quickly approaching one-year anniversary. Did you expect it to do as well as it does and be embraced in the way that it has been, especially after the flack it got for bastardizing the soap opera time slot with a talk show?
Carla Hall: Oh my gosh, we did [get criticized]. It was crazy and Brian Frons took a lot of heat for that, and I was sad to see [All My Children] go, but what I saw in it was that the soap fans were so passionate, and there's a beginning, and middle and an end for everything, and even for us there's a beginning. And when something ends, something else begins, and sometimes we don't like that change. But soap fans [and] new fans have really come to enjoy the show, and I think it's because it's a party in the kitchen and it reminds people of what it's like to entertain, you know? And you have your friends and you're talking about whatever and you're learning, you're cooking together, and I think the surprising thing — I was hoping that the show would be successful, but I think the surprising thing for me — was how well we all get along. We really like each other. It's a motley crew that works.
Your fellow Top Chef alum Richard Blais recently made an appearance and he called your hosting gig the biggest accomplishment ever to be achieved by any Top Chef contestant. How did that make you feel, coming in your first time on Top Chef as "the caterer," which has sort of become an underdog role?
You know, I get embarrassed. When Richard said it I was like, "Oh my God, Richard!" And I guess it's because there are so many chefs who came out of All Stars who are doing so well. Mike Isabella is getting ready to open his third restaurant, Tiffany Derry has one restaurant and is getting ready to open another one. Spike is opening one — Spike is trying to take the world by storm, you know, he has other Good Stuff Eateries all over DC and I think in other areas. And you know, Dale Talde — everybody is really doing well.
And I think it depends on what they want to do. For me, I didn't want to open a restaurant, so I closed my catering company. I'm now doing the sweet and savory cookies. I wanted to do something that I felt like I was doing well [so] I could focus on something. So, I guess if you want a television show, it's the biggest thing because it's pretty awesome. But I have to say, a lot of my Top Chef alumni are doing well in restaurants because that's what they want to do.
To what do you attribute your "celebrity chef" status, if you do, in fact, think of yourself as one?
I don't consider myself to be a celebrity. I am on the train, and it's so funny, when I'm on the metro, and even when I'm in a nice dress and I'm on the metro in DC, the subway here, people are like "You take the subway?" Yes I do. I don't consider myself to be a celebrity and when people come up to talk to me and they know me from Top Chef or The Chew, I feel that it's my opportunity to get to know them. So, I'm talking to them like I'm playing catch up, and I really like that. I said to my friends, "If ever I start believing the hype, here's a fork to stab me in the eye." And I really like people, and I think that's what it's afforded me to do, to actually to talk to whomever, and I would do it anyway, [but] now I get to talk to even more people.
Who's your culinary icon?
[Gasp] Oh, my culinary icon. You know, I have a couple, and Julia Child actually — and I know that everybody says Julia — but when I wasn't cooking and I was learning from cookbooks, I had her cookbook, and, of course, I saw her on television, and I had this French culinary book and I would go back and forth to that one and Julia Child's. Back and forth, back and forth. For whatever reason, being from the South, I picked French. And this was before culinary school, this was before any of that and I just, I really loved her.
And then when I went to culinary school, I realized how much she stood for. To this very day, what I like about her — and a more of a contemporary person whom I like, Jamie Oliver — I like when people have food and they just throw it together, and it's not overly precious. It's just yummy. When people ask me "What is your specialty?" or "What is your food style?", I just want to create food memories. I want to go to a place, I don't care what place it is, it can be really fancy and all of that, but I want something that I want — a food memory. I want it again. But I don't want some intellectual food moment. That's okay, but I want something that just really makes me feel hugged.
What food or restaurant trend are you absolutely, undoubtedly over?
I don't need to see foam ever again. Why does it feel like spit to me? The thing is, and I said to Richard, "In all seriousness, Richard, what is it with the foam?"
And he said, "It's another layer of flavor."
I said, "But, it's not really hitting my tongue, and I have good taste buds." It's like this thing that just goes in there and dissipates. It's not even like a pop rock. It just [disappears].
And I have to say, truffle oil. My God, people overuse it. Fresh truffles are amazing.
What aspect of being a chef is most gratifying for you?
It's not easy, and I think people think it's really easy. I think when people ask me, "When are you going to open a restaurant?" and I'm like, "Oh, I'm not," because they think it's really sexy until they come into the kitchen and realize the long hours and you're standing. As a matter of fact, I'm doing my pop-up [restaurant] tomorrow (Wednesday) and Thursday.
At David Burke, right?
At David Burke! So, I'm leaving The Chew, and I'm running over there to do the prep in the kitchen, and I'm covered in flour, and then I come here, and this reminds me of my catering days. It's exciting and it's exhilarating and it's wonderful, but it's exhausting and I think people kind of forget that. But the one thing I love about being a chef is nurturing other people. I think that is the way that I nurture other people, and the same way that I love people and I'm talking to them, that's what I want to do with food.
What restaurant served your favorite meal?
You know, it changes for me. My favorite meal changes, and it's because whatever in the moment. I just went to Smorgasburg, in Williamsburg, and it was just wonderful. Here these small vendors are, doing what they do, and they're focused on one thing and that is the small business, and they're doing it well, and it's just delicious. It's that hunger that they have to just feed people, so I love that. And I was at a farmer's market and I had some pizza, this guy has a portable wood fire oven — this was in DC — and the crust was amazing. It was the perfect chew, the right amount of salt, and so I was doing a demo and I had these zucchini and feta and basil and dill and lemon zest, and I said, "Do you mind making a pizza with these things?" and he's like "No!" and he made this pizza. It was so good. And I just turned and I looked at him and I went, "Damn, this is so good." So, that was the moment that I had last week, and I'll probably have another one next week, but I think it was his passion that I tasted. I think when you taste somebody's food and they're passionate about it, it's just yummy.
If you could have any chef in the world cook for you, who would it be, and, in turn, if you could cook your best meal for anyone in the world, who would it be?
I'm gonna start with the second part. The best meal, honestly, would be for my grandmother, and it's because she — I'm gonna get choked up [and she does] — she passed away before all of this happened, and she gave me my first rolling pin, and she was the one who said, "Just be happy in whatever you do," and I carry that with me all the time.
So, who would I want to cook for me? I'm gonna say, and I hope he reads this article [at this point, Carla leans over and speaks directly into my recorder], Jamie. That's J-A-M-I-E. Oliver: O-L-I-V-E-R, because I love his food. I love his food ministry and what he stands for. He's just kind of loosey-goosey about it and it's just what he does. And it's the vibe that I get when I watch him cook. I like him, and I think we would just sit around and talk about our passion, about food. And I know there are lots of people — honestly, just sitting around talking to [fellow The Chew hosts] Michael [Symon] and Mario [Batali] about their passion and food — but, since I can't see Jamie every day, I'm choosing Jamie.
This interview has been edited and condensed.
Have a tip we should know? tips@mediaite.com