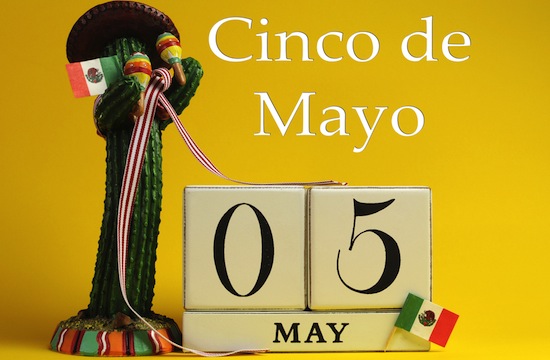 Cinco de Mayo is this weekend and depending on the types of people you have in your life, you could be drinking a jalapeño-infused margarita on a rooftop with your maxi dress flowing in the early May breeze, or you could be pounding nachos with your bros at a totally racist frat party. Wherever the holiday takes you, don't be the guy who shows up with a bag of Tostitos or pony bottles of Corona Light.
We reached out to 11 celebrity chefs for advice on exactly what to bring to the millions (maybe one) Cinco de Mayo parties we'd be attending this weekend. Before getting your shopping list handy, here's how some of them will be celebrating the holiday:
Bobby Flay says, "I'll be celebrating with lots of margaritas obviously. This weekend is a tough one… Bourbon on Saturday for Derby day and tons of tequila for Cinco de Mayo." Tough? Or just awesome.
Andrew Zimmern plans to celebrate by watching the world premiere of Border Check, his Travel Channel pilot that airs at 5:00 PM ET. "We shot it in Mexico, hence the Cinco de Mayo air date." He describes the show as, "a new way of looking at travel television [that] asks the question 'where does one place end and another begin?'" If it's this Sunday, it better begin and end with margaritas, amiright?
While we only wish we could be partying with Nadia G (she of the Bitchin' Kitchen), we know we'll be spending the day after in much the same way. "I'm pretty sure the 6th will be spent staring at empty bottles of Tres Generaciones Anejo un-tagging myself on Facebook."
Equally perverse, Justin Warner's celebrating with "mayo on everything!" and Kevin Gillespie is hoping to get some proximity cred "by building a restaurant (Gunshow) right next to a Mexican restaurant!" Good thinking, guys.
For a menu's worth of ideas on what you can bring to soak up all the tequila that you and your friends will be sharing this weekend, check out the gallery. We can't promise all the answers are replicable.


[imageviewer id=3156]
Have a tip we should know? tips@mediaite.com