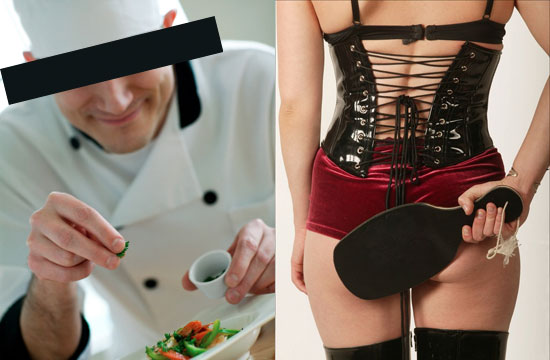 Financial Professional Dominatrix. Did you know that was a thing? Because it's totally a thing. A Pro Fi-Dom is like a regular pro-dom except what she professionally dominates is your wallet. As in, she commands, "Buy me this shiny object, you worthless hunk of man flesh," and then the aforementioned high-powered business-type hunk of man flesh feels an intense rush of release after buying her a Burberry trench or forking over $1000. One fi-dom who was recently profiled by New York Magazine doesn't even incorporate sex into her routine. In fact, as one (un?)lucky celebrity chef client of hers learned, sexualizing "Goddess Nia" comes with dire consequences. Reveals "Nia":
"Sub-Chef is a super-successful restaurateur. He's the only one who's ever crossed the line sexually, because he confessed to masturbating to me. So I put his cock in a cage. Now he's inside a chastity belt and can only masturbate one week out of the month, and that's only if he can answer my trivia questions. Isn't it crazy? This famous chef is walking around in a cock cage. When he failed a quiz about Arrested Development, I ordered him to write 2,000 words on the meaning of obedience and wouldn't unlock the cage. I went to one of his restaurants and said, 'My moules frites are subpar; you have to personally remake them now.' Meanwhile, the key to his cock cage is around my neck, and the waitress is watching from the corner."
Needless to say, we'll be watching below-the-belt areas on male celebrity chefs as they make talk show appearances extra closely from now on, in an effort to catch any extra-suspicious bulging. Also, moules frites made to reorder? Is it wrong that we want to shift this deviance ever-so-slightly from finding financial submissives to finding food submissives? We're thinking about this too much. We have to go now. But you should continue to speculate about what celebrity chef she's talking about in the comments.
Have a tip we should know? tips@mediaite.com