The Cochon555 US Tour kicked off last night, and where better to begin than in New Porc City? Despite this weekend's weather, patrons and industry folk packed Weylin B. Seymour's in Williamsburg for an epic pork competition for a good cause.
The competitors included Justin Smillie (Upland), Hilary Sterling (Vic's,), Michael Poiarkoff (Vinegar Hill House), Angie Mar (The Beatrice Inn), and Danny Mena (Hecho En Dumbo). Each chef was given a heritage breed whole pig and was allowed to create a maximum of six dishes in a nose-to-tail culinary competition, benefitting Piggy Bank.
Piggy Bank is an organization whose mission is to create a heritage breed pig sanctuary that provides free genetics and business plans to emerging family farms.
The event was boozy, delicious, and well-executed. The five competing chefs prepared different pork dishes ranging from chili to sandwiches, to pie to be voted on by both patrons and judges. The judges were Jacob Dickson (Dickson's Farmstand), Thomas Schneller (The Culinary Institute of America), Anthony Sasso (Casa Mono), Ryan Hardy (Charlie Bird), Cesare Casella, Cristiano Creminelli (Creminelli Fine Meats), Christian Pappanicholas (The Cannibal) Frank Langello (Babbo), and Brad Farmerie (Public).
Erika Nakamura and Jocelyn Guest of The Breslin butchered a pig, and the cuts of meat were sold by the pound. All proceeds from the sales went to Piggy Bank. It was incredible to watch:
There were sommeliers and winemakers from all over the world, a tequila bar, lots of whiskey, and an additional food program. There was a TarTare bar, a cheese bar, a raw bar with oysters and clams, and ramen and pie pop-ups.
The big winner last night was Angie Mar for her incredible selection which included the aforementioned meat pie.
We got the opportunity to meet and mingle with the chefs, including Justin Similie who was having fun with his animal: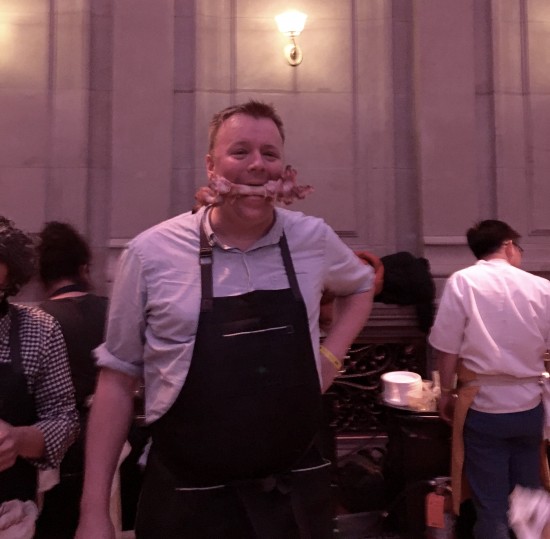 And Michael Poiarkoff, who revealed to us that his favorite restaurant outside his own is Varrio 408, a taco spot in Brooklyn that we'll have to check out. All in all, it was an incredible experience that supported a great cause. We're already starting the countdown to next year's event.
Have a tip we should know? tips@mediaite.com