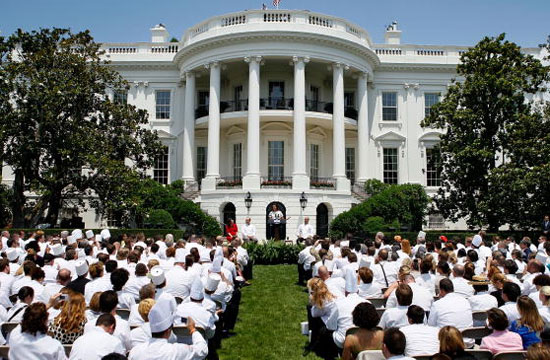 Remember that time where Hillary Clinton made the U.S. State Department infinitely cooler by tapping celebrity chefs to cook fancy meals for important diplomatic guests? It was apparently so successful (and beloved by the public) that the State Department decided to build an actual diplomatic corps of talented celebrity chefs to serve as culinary ambassadors around the world. Hahaha! Take THAT, Henry Kissinger!
The Washington Post reports that the Diplomatic Culinary Partnership, created by a collaboration between the State Department and the James Beard Foundation, will utilize the skills of chefs like Jose Andres, Bryan Voltaggio, and Vikram Sunderam to send hidden messages through food. At least, that's how Andres would put it. Here's how the Post phrases it:
The wide-ranging effort creates an American Chef Corps, a network of culinary leaders who could be deployed to promote U.S. cooking and agricultural products abroad. "They might meet with an embassy, cook a lunch, post blogs or [write] articles, speak at events," says [U.S. Chief of Protocol Capricia Penavic] Marshall, listing the many ways participants might engage.
Though the corps of 20 chefs won't be fully unveiled until the 7th of September, the State Department has already used the talent of some of DC's top chefs abroad and at home. For the most part, the initiative's been quite popular, though we hesitate at the thought of Mike Isabella being asked to act "diplomatic" in any situation. (Okay, maybe it's possible, but anything is possible when the US government is telling you to do it.)
Have a tip we should know? tips@mediaite.com