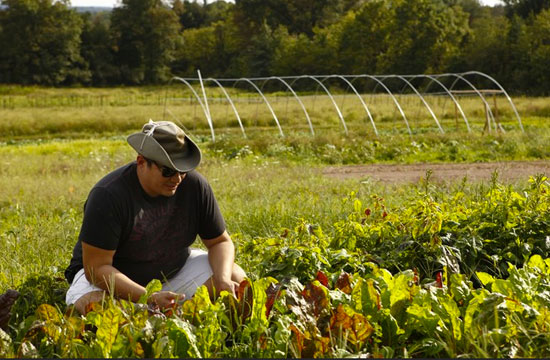 Look, we're huge fans of the idea of "farm-to-table." We think farmers are super cool folks who accomplish great things like, say, feeding America and bringing back heirloom produce and raising happy porks. We love chefs who promote these farmers, and occasionally can Dan Barber their way through the restaurant world.
But if you are a chef who decides to start farming just because — well, we and the Wall Street Journal would like to smack our heads collectively.
In this profile of Jose Garces, David Bouley, and Eric Skokan, you can almost hear the author's exasperated sigh at the way that the celebrity chefs go about this farming business, particularly the money spent on 1) supplies and 2) dealing with screwups:
Farming is notoriously laborious, costly and prone to the vagaries of climate and nature. And chefs, regardless of their stature in the culinary world, can face a steep learning curve. Mr. Garces spent $35,000 for a tractor, $30,000 on a deer fence, $25,000 to build a greenhouse, $12,000 to dig a new well and $10,000 for an irrigation system. He says he pays a local farmer "as much as a high-level sous chef" to work the fields. Still, his fields flooded last fall and again in the spring, destroying some of his tomatoes and wiping out nearly the whole potato crop.

"I think it happens more when you're inexperienced. That's been a big problem," Mr. Garces said.
Naturally, the Real Farmers love stopping by and making fun of the gentlemen farmer-chefs. You do have to applaud the Real Farmers for helping them out, though, and not simply letting them founder about helplessly:
"He walked by and said, 'Hey, Eric, I like your baby carrots' sarcastically," Mr. Skokan said. The farmer explained to Mr. Skokan that he could make his carrots grow thicker by mixing sand in with the seeds. That reduces the number that sprout in one hole, giving each carrot more room to grow.

Mr. Skokan took his advice and soon harvested a crop of fat carrots, the pride of any farmer.

"That one trick saved me, like, 100 labor hours," Mr. Skokan said.
Lesson of the day: farmers don't let farmers fail, even if said farmers are some big shot city slickers who run restaurants and are obsessed with weird plants.
[WSJ]
Have a tip we should know? tips@mediaite.com