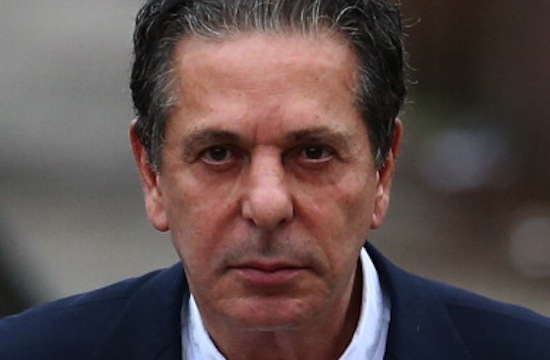 Shut. It. Down. Don't you know you're losing the fight?
Charles Saatchi apparently cannot stop on his warpath to destroy ex-wife Nigella Lawson, and so here we are reporting on stupid shit he-said-she-said. The latest? The Mirror reports that Lawson began an affair with Saatchi while she was still with her first husband, John Diamond. Because nothing says "fuck you" than a cheating rumor!
And then the Telegraph came out with Saatchi's "side" of the story, as described in Vanity Fair, and it' sthe most hysterical defense of domestic violence ever.
The couple were actually arguing over the future of Miss Lawson's daughter, Cosima, during the Scott's bust-up and Mr. Saatchi was holding his wife's neck because she was not concentrating, sources close to him have claimed…

Miss Lawson went to the ladies and when she returned she was "unable to focus", Mr. Saatchi is said to have claimed.

The source added that he was "holding [her] neck to try to get her attention. He was saying, 'Listen to me. I feel very passionate about this. I think it's great they love her at The Economist.'"
Because she was not concentrating?! Excuse us while our vagina explodes with rage.
Of course, Saatchi isn't really fooling, like , anyone, especially after that Vanity Fair article. Pretty sure that making a woman's head snap backward, as this paparazzi claims, is not how to get a woman to concentrate.
And then Marina O'Loughlin put it into words how we feel about it all — and what we hope Saatchi is really up to these days.
Oh god. Saatchi's been at it again. Put it away, love.

— Marina O'Loughlin (@MarinaOLoughlin) January 12, 2014
Charles Saatchi at home alone, watching The Taste on loop, eating boil-in-the-bag cod that tastes of eggs and despair.

— Marina O'Loughlin (@MarinaOLoughlin) January 12, 2014
BECAUSE THAT'S WHAT YOU DESERVE, SAATCHI.
RELATED:
WATCH: Vanity Fair Goes Behind Nigella Lawson's Choking Photographs
Angelina Jolie Might Star in Unconfirmed Nigella Lawson Biopic Which Maybe Exists
WATCH: Nigella Lawson's Assistants Speak Out in First TV Appearance Since Trial
Have a tip we should know? tips@mediaite.com