Charlie Trotter Will Close His Restaurant With A Bash Catered By Chef Megastars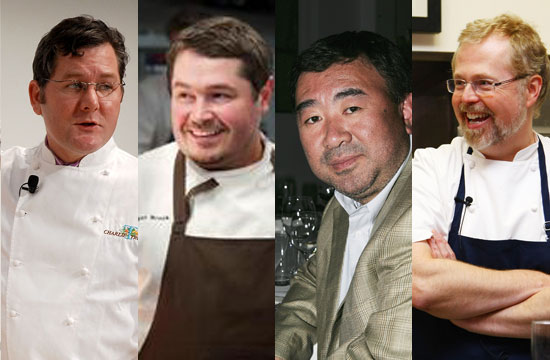 If you were a Sad Chicago Resident when you heard that Charlie Trotter will close his eponymous restaurant on August 31st after 25 years in business, you should not be a Sad Resident when you hear how he's decided to end his days at the restaurant: by getting three of the boldest, most adventurous chefs working today to cook for him in a charity dinner megabash.
Trotter announced that on August 19th, he will throw a $2,500 per plate dinner, served by Sydney's Tetsuya Wakuda, Sean Brock, and — gasp! — Nathan Myhrvold, who's never done anything in the kitchen like this (he's more of a books and robots guy). As the guest chef of honor, Myrhvold and his team will prepare five courses, while Brock and Wakuda, whom Trotter praised glowingly, will prepare two courses each.
And there might even be other celebrity chefs! "I've got a few mystery chefs in the kitchen, not preparing courses but they'll be helping out," he divulged to Eater Chicago, hinting that two are from Chicago, one is from LA, and the other from Boston. (Please let it be Tim Cushman from O Ya!)
All proceeds from the dinner are going to Myrhvold's charity (which we hope is called "Let's Grow Sustainable Tomatoes In Space Rockets Powered By Bing"), but though this event is already insane, can you believe it won't be True End of Charlie Trotter's? "There's another dinner happening that is potentially even more mind blowing," he revealed. Though he can't talk about the August 31st bash yet, he says that "it's the very antithesis of everything [he's] done for the last 25 years."
Have a tip we should know? tips@mediaite.com