Charlie Trotter Bows Out Of The Restaurant Biz, Reveals Ringing Ron Paul Endorsement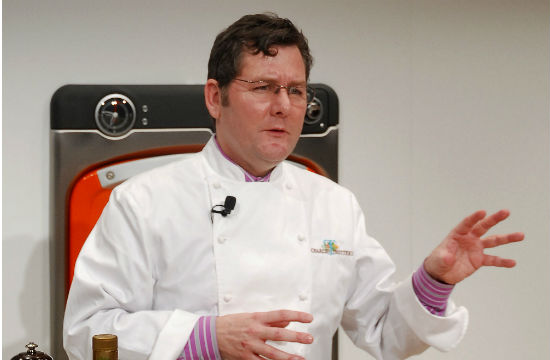 Sure, we're all a little sad that veg-friendly and otherwise iconic Chicago restaurant Charlie Trotter's is closing because the chef/owner wants to go back to grad school, take his wife on lots of trips, and otherwise just take a breather after working superhumanly hard over the last two decades. But, also, maybe it's time for a break. Being at the forefront of some of the most controversial food legislation has obviously taken a toll on poor Charlie, who somewhat bizarrely revealed a ringing endorsement of Ron Paul in a recent chat with Toqueland.
"It's just too bad my guy didn't get the Republican nomination for president. That would be Ron Paul," he said. "I'm the ultimate libertarian. Just live your life, do your thing. Insofar as you hurt no other, then fine. There are bigger things to conquer than these issues."
The "issues" he's referring to are some of the food legislation trends he was the first to spark. Did you know Charlie Trotter's was the first resto to go non-smoking back in 1987? It would be banned in Chicago restaurants altogether some twenty years later, and, of course, Charlie was first on politicians' lists to testify in favor of it. He dished:
I'd get calls from the Chicago aldermen saying, "Oh, gosh, this is great. We're trying to legislate that we should have no smoking sections…and we want you to come and testify that it hasn't hurt your business." And my response was, "If I come down and testify, I'm going to testify the other way. The government can't get their grubby hands involved." I made this decision. Clients can decide if they want to come or not come. Employees can decide if they want to work there or not work there. We can't legislate everything.
He also stopped serving foie gras in 1998 after he visited some farms and deemed it to be inhumane, and was met with more of the same:
Then I had Chicago aldermen, this one guy in particular, saying, "Chef Trotter, this is amazing. You need to come down and testify that we need to ban foie gras." I said, "If I come down, I'm going to go the other way." I'm not preaching. We don't serve foie gras. I'm not saying we have to legislate against it, you know?
Yup. When you get all "Liberty liberty constitution gold standard straw poll money bomb straw poll money bomb federalism self-sufficiency. I win the debate," it's definitely time for a well-deserved break.
Charlie Trotter's alums Graham Elliot, Bill Kim, and Mindy Segal will be cooking the restaurant's signature dishes for its final service next week, along with Koren Grieveson of Avec and Anne Burrell (whose mystery lady actually works at Avec! Connections!). Reservations for "Final Feast with Chef Charlie Trotter and Friends" are going for $250 a pop. Did someone invite Ron Paul?
Have a tip we should know? tips@mediaite.com