Charlie Trotter's Last Supper: Celebrity Chefs, Chicago Mayors, And 60 Of His Most Loyal Diners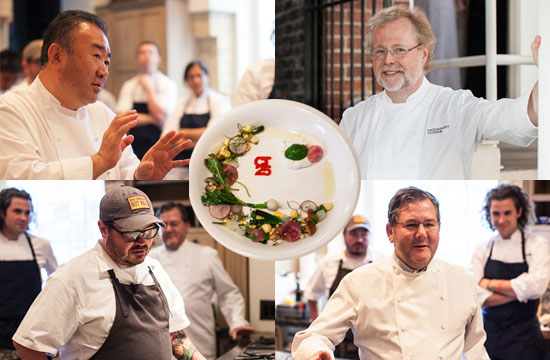 While his restaurant officially closes at the end of August, on Sunday Charlie Trotter hosted a final gala in his kitchen before he retires to the academic life. Joining  him were three prominent chefs — Tetsuya Wakuda, Nathan Myhrvold, and Sean Brock — who also cooked individual courses of the dinner honoring Trotter's monumental contributions to American cuisine, as well as guest of honor Mayor Rahm Emanuel.
But in a final display of loyalty and support, all 60 of the gala's paying guests were regulars at Charlie Trotter's, who'd dined there from the restaurant's beginnings 25 years ago. Some, according to Grub Street Chicago's writeup of the event (so jealous!), had eaten at Charlie's over 400 times; all paid $2500 per person for the privilege to attend at a restaurant which "held a central place in their lives":
It was the place where they discovered the finer things in life when they first made money in the boom of the 80s and early 90s, and which had shaped their tastes as they returned again and again, enjoyed being greeted by name and having their preferences remembered, and built their self-evidently substantial wine cellars with some guidance from Trotter's legendary sommelier Larry Stone. More than once as both Trotter and guests spoke about the past quarter century, it was with a note of wistful gratitude for having grown from relative youth to age as a guest here.
And with their presence, they brought wine from their own private cellars ("one guest brought a Melchior, a giant bottle almost larger than sommelier Larry Stone as he struggled to pour it, and shared it with the entire restaurant"), as well as excellent dinner companions. We'd pay a lot of money to spend an evening with Jay McInerney over a dinner cooked by four megachefs, except we guess that that was the point of the evening. But still, to be Trotter and see all your loyal guests, whom you've fed for twenty-five years, celebrate your career by coming to your last party? That's one of the nicest things ever.
Have a tip we should know? tips@mediaite.com