Charlie Trotter's Restaurant On Sale For $3.8 Million; Homaro Cantu's Loss Could Be Your Gain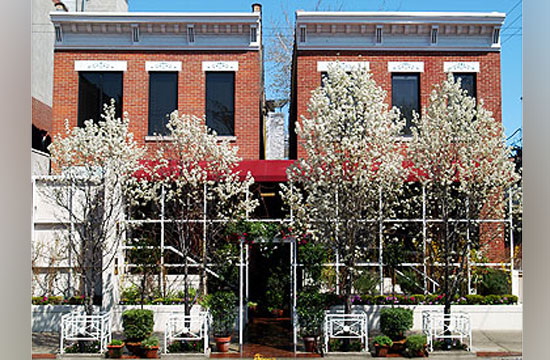 We're nearing the end of the Great Charlie Trotter Retirement Liquidation EVERYTHING MUST GO Sale, and truly, this is the end. All the photos and pots and service pieces are gone, all the wine sold, all the Rahm Emanuel moments a distant memory. Now, the only thing left is the restaurant itself, which can be yours to scrapbook for $3.8 million.
For that kind of chump change, Eater Chicago reports that you'll receive a fully working restaurant inside a gorgeous townhouse built in 1908, complete with $1 million of already-installed kitchen equipment with such lavish features as, "under the countertop refrigeration, self-cleaning water wash hoods, spring-loaded refrigerator doors, a stainless steel ceiling with smoke eating exhaust equipment to purify the air and eliminate airborne grime, deck lighting below the counters, and fluorescent and incandescent lights installed above the expeditor's station."
This hot property could easily be the home grounds for an aspiring world-class restaurateur, but get ready to shell out, because another one of Chicago's hot chefs couldn't pony up the cash. According to Chicago Real Estate Daily: "Shortly after the restaurant closed, Homaru Cantu, the chef at Moto, expressed interest in the property but he and Mr. Trotter couldn't agree [on] a price."
Perhaps the price would go down if we revealed that spoooooooky things happened in the Old Trotter Restaurant? We heard once there was a mad chef who lived there, and he'd strangle people with his thick, meaty hands. Then, one day, he disappeared. Some say that he spends his days locked in a tower, madly trying to decipher postmodernist philosophy. But some say his restless spirit wanders around the restaurant, wailing about "the price of a photograph." Some actually call him "Charlie, the Friendly Libertarian Ghost." But really, that's why we'd buy that restaurant for $3.50 in couch change.
RELATED POSTS:
Charlie Trotter Freaks Out At His Shuttered Restaurant Auction
Moto's Homaro Cantu To Maybe Take Over Charlie Trotter's Abandoned Restaurant
Charlie Trotter Gets A Street Named After Him
Have a tip we should know? [email protected]