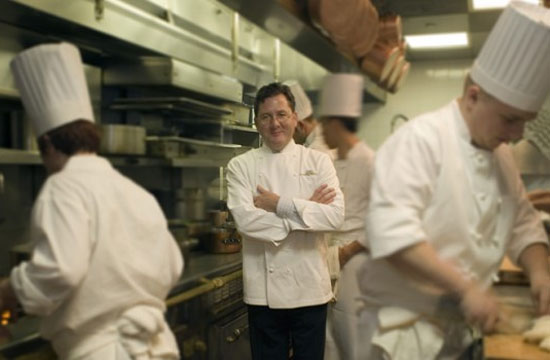 As the culinary world learned more about the unexpected death of Chicago chef Charlie Trotter, speculation grew about the chef's recent health. Reports from the Chicago Tribune suggested that Trotter had an inoperable brain aneurysm, and that his death was due to recent air travel, which would have put pressure on his aneurysm and led to possible rupturing.
While an autopsy has not eliminated this possibility and will require further investigation, his wife Rochelle Trotter sent out this statement to the media confirming that Trotter did in fact have an aneurysm, but that his recent trip to Jackson Hole, WY did not play a part in his death. Trotter had been taking medication for "seizures, his blood pressure and high cholesterol," but had been cleared to travel.
Here's the statement in full, from The Huffington Post:
In January Charlie was treated for a seizure as a result of an aneurysm which was discovered at that time. His doctors prescribed the proper medication to control seizures, his blood pressure and high cholesterol and he was seen by a number of medical experts who cleared him to travel. He returned home from his most recent trip Monday night without incident. The autopsy indicates that his travel is not connected to his death. This is obviously a difficult time as we are still processing our grief. As his family and I focus upon putting Charlie's body to rest, we hope that this will settle the inaccuracies that have been reported and we can move forward in honoring Charlie's life on Monday. We ask for your patience and continued respect of our privacy.
A memorial service is planned for 10 AM next Monday at the Fourth Presbyterian Church of Chicago.
RELATED:
BREAKING: Charlie Trotter Dead at 54 [UPDATE]
Reports: Charlie Trotter Had Inoperable Brain Aneurysm, 'Felt That He Didn't Have A Lot of Time Left'
Last Call: Charlie Trotter Autopsy Deemed Inconclusive
Have a tip we should know? tips@mediaite.com