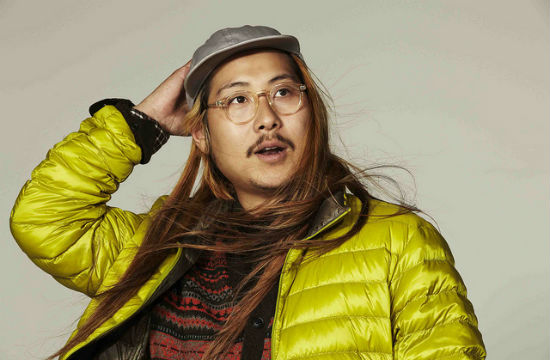 After Gant's Fall 2012 Foodie Campaign, which used the chefs behind The Fat Radish as inspiration/models for the line, we held out hope that lady-modeling and food would soon skip happily hand-in-hand. Now, two more clothing lines have come out with ad campaigns, though both stuck with male chefs as models. Sigh.
First, and so very predictably, Danny Bowien of Mission Chinese has been tapped for Uniqlo's "Face of the People" Campaign. He evidently discovered their easy basics while traveling in Tokyo, and now wears their jeans while cooking all the time. (Of course he does.) Uniqlo's chief marketing officer Kensuke Suwa, says of using Bowien for the campaign:
"We believe that both clothing and food are crucial elements of people's everyday lives, you can't really live without either…We did our best to seek out true innovators in their respective fields who exemplify our Made for All brand philosophy. All of our campaign members have made significant contributions and in many cases changed the playing field through their original and creative approach to what they do, be it cooking, dance or writing, etc. In the case of Bowien, who started his career in San Francisco, where we are planning to open our West Coast Flagship on Oct. 5, he has recently opened a restaurant in Manhattan, and like Uniqlo, has big plans for the future."
Also, he's a kung-pao pastrami-slinging hipster god of men. So… that fits with Uniqlo's brand.
Meanwhile, J. Crew is rolling out an ad campaign starring Meatball Shop's Michael Chernow and Tea & Sympathy/A Salt And Battery's Sean Kavanagh-Dowsett. To be fair, though, they both have ties to the modeling industry, so this one isn't quite so far out of left field. Michael's wife is repped by Ford (a model married to a chef? Preposterous!), and Sean is a recovering model who posed for the likes of Paul Smith and Prada back in the day.
"It was nice to be dragged out of retirement," he joked, dishing that fashion industry peeps stroll through his restaurant all the time. (We're assuming he means Tea & Sympathy, not the deliciously deep-fried fish and chips joint.)
"We used to see Naomi [Campbell] and Kate [Moss] in here all the time," he said. Note the first name basis! "Grace Coddington, the editor at Vogue, loves our flapjacks."
Okay, now, for real. Lady restaurateur-models. Go!
Have a tip we should know? tips@mediaite.com