Chef Convinces Parisians to Like British Food, Upends Our Understanding of the Universe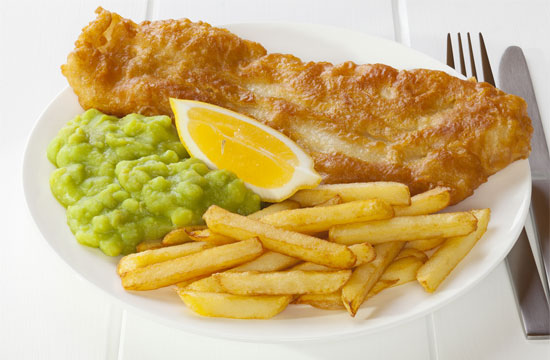 In the spirit of this old Apple commercial, chef Michael Greenwold has decided to do something either totally genius or utterly batty: he's opened up a traditional British fish-and-chips shop in the middle of Paris. Even crazier: the French seem to like it.
In an interview with The Local, Greenwold revealed that though he gets a lot of expat customers, 70% of his patrons at Le Sunken Chip are French. While he's had to make a few changes to the menu (no mushy peas), he's also refused to capitulate to traditional French brasserie fare (no desserts, and absolutely no wine). "If we can make trendy Parisians eat fish and chips then we must be doing well," he told the paper. "There is a massive movement in Paris in the last few years away from the failing Parisian brasserie, especially among office workers."
But was it easy to open? Obviously not. Greenwold especially had difficulty in convincing his French investors to get over themselves:
One of them had never even eaten fish and chips before and the other one came to London with us to do the research and was aghast. He was saying: "Do you really eat this stuff[?]"

It has been difficult at times. They were conscious of what a restaurant should be like in France so we had a big dispute at one over whether to serve wine or not. We insisted there's no way we can serve wine in a chippy. We will sell beer and maybe cider. So, there were a few cultural differences yeah, but in the end they left the concept to us.
Uh, yeah, who would ever eat wine with fish and chips? (Oh, right. We're talking about the French.)
In honor of you, Michael Greenwold — you who convinced Parisians that deep-fried whitefish goes really well with thick-cut fries, you who also convinced them that malt vinegar is a good pairing — we dedicate this song to you:
RELATED:
Wunderkind British Chef Splits With Pub Because He Didn't Want To Serve 'Pub Fare'
Top British Chefs Gang Up On Lowly Food Blogger On Twitter
Chef Leaves EpicTripAdvisor Smackdown To Angry Customer
Have a tip we should know? tips@mediaite.com