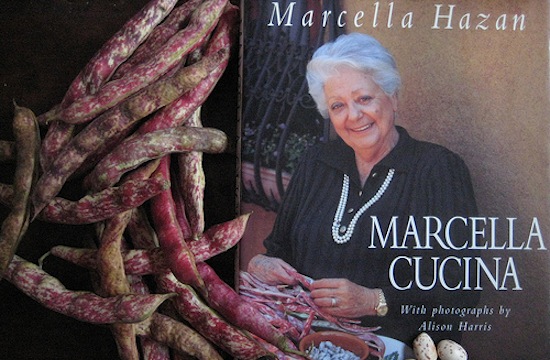 The food world lost a giant today, and chefs around the world mourned the death of cookbook author and "the Julia Child of Italian food," Marcella Hazan, at age 90.
The news was confirmed by Hazan's daughter-in-law, Lael Hazan, on Twitter.
The world of cooking has lost a giant today. My mother-in-law Marcella Hazan melted away peacefully, my father in law at her side.

— Lael Hazan (@educatedpalate) September 29, 2013
As The New York Times noted in a 2008 interview, Marcella's husband, Victor, was responsible for translating her classic Italian dishes and recipes into English. Hazan, credited with bringing authentic Italian cooking to America, wrote six cookbooks; her first, the standard for all Italian cooking, The Classic Italian Cook Book: The Art of Italian Cooking and the Italian Art of Eating, in 1973, and one memoir, Amarcord: Marcella Remembers.
The New York Times' Mark Bittman was the first to Tweet the news; the floodgates opened for other celebrity chefs and the food world to remember Hazan's contributions.
RIP Marcella Hazan, one of the true cooking greats in US history. Died this morning, Longboat Key, FL.

— Mark Bittman (@bittman) September 29, 2013
A sad day in American — and Italian –cooking. Marcella Hazan has died in Longboat Key, FL, @bittman reports.

— Sam Sifton (@SamSifton) September 29, 2013
Very very sad to hear the passing of Marcella Hazan .My thoughts are with the her family . You touched my soul .RIP darling Marcella

— April Bloomfield (@AprilBloomfield) September 29, 2013
In Italy w John for our anniversary & just heard the sad news Marcella Hazan has passed. We will remember her in our hearts & our food.

— rachael ray (@rachael_ray) September 29, 2013
RIP, and God bless you, Marcella Hazan. Your books bridged a gap between my mother & I during very bad times. You continue to inspire me.

— robicellis (@robicellis) September 29, 2013
I met Marcella Hazan when I first started cooking and she made me obscenely buttered toast with fresh sardines. I'll never forget. RIP

— alex guarnaschelli (@guarnaschelli) September 29, 2013
A sad farewell to Marcella Hazan, whose books taught me more about happiness than those of any philosopher. Sit tibi terra levis.

— David Wondrich (@DavidWondrich) September 29, 2013
Farewell to Marcella Hazan. Italian food in this country (and in so many others) would have been much less the poorer without her.

— Jay Rayner (@jayrayner1) September 29, 2013
Marcella Hazan is survived by her husband, Victor, son Guiliano, and daughter-in-law, Lael.
RELATED:
Dana Cowin Fondly Recalls The Time That Julia Child Owned Her
We're Screwed: Sam Sifton Gets Promoted, Will Launch New NYT Dining News Site
Ina Garten Sells the Most Cookbooks in 2013, Without Help of Scandals or Reality TV Show
Have a tip we should know? tips@mediaite.com