Exclusive Interview: Chefs Gather In Tennessee At James Beard Foundation's 'Policy Boot Camp'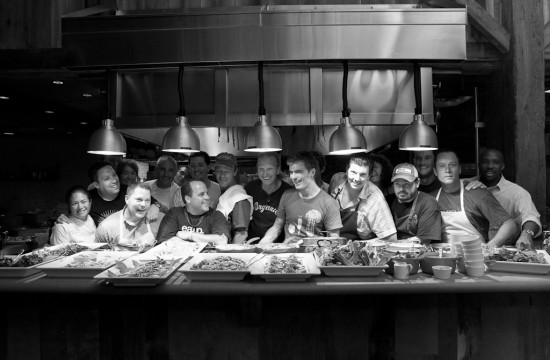 If yesterday you saw tweets tagged "#JBFLeads," or the chefs on your feed talking about antibiotic overuse in livestock, or multiple people praising blackberries, you may have scratched your head, wondering what all these things had in common.
A lot, it turns out — and what connects them is a new initiative that has huge implications for the chef world.
Over the past three days, the James Beard Foundation held its first ever "Chef Boot Camp for Policy and Change" at the Blackberry Farm in Walland, TN, hosting sixteen prominent chefs with a vested interest in promoting change in the food system through policy. With help from the Pew Charitable Trusts, the boot camp brought in scientists, policy wonks and media experts from Washington, DC to teach chefs — from TV celebrities like Hugh Acheson and Mike Isabella, to prominent regional chefs like Sean Brock of McCrady's, Michael Anthony of the Gramercy Tavern, Maria Hines from Golden Beatle Restaurant & bar, and Cathy Whims of Nostrana — how to successfully use their stature to advocate for policy change.
Since there's no way that anyone can learn all of food policy in two days, the meeting focused on two topics: the overuse of antibiotics in livestock production, which leads to infectious, drug-resistant "superbugs," and the controversial topics in the upcoming debate over Congress's Farm Bill. Eventually, the meeting hopes to expand to other topics, such as improving school nutrition and access to quality produce.
While chefs certainly hold political leanings, and some have prominently campaigned for changes in policy (e.g. Mario Batali eating on a food stamp budget, and Tom Colicchio testifying before a Congressional panel on childhood nutrition), this is the first time — the first publicly acknowledged time, at the very least — that the restaurant industry has recognized the potential advocacy power chefs hold. The camp was the brainchild of two James Beard Foundation trustees: Michel Nischan, who runs the affordable food nonprofit Wholesome Wave, and new trustee Eric Kessler, who created a similar advocacy model for artists in the music industry.
But don't think that the Beard Foundation has suddenly become a policy organization, says executive vice president Mitchell Davis. "Our goal isn't to turn chefs into political advocates and actors," he told us in an interview, printed below. "Our goal is to support those who want help in that area, with an interest in doing more, to do it.
"Chefs have become such important celebrities, but also important thought leaders on the conditions surrounding our food, that we wanted to give them some tools to take the opportunities that they've been given."
And did the boot camp succeed? If Acheson's urgency-imbued tweets on superbugs are any indication, chefs may decide that they want to speak out on these issues more often.
***
The Braiser: Why start this event?
Mitchell Davis, Executive Vice President of the James Beard Foundation: A few years ago, with Pew's support, we started a conference to bring policy thought leaders together, [first] in Washington and then in New York, and we started canvassing the country hearing what issues were of interest to chefs. We're not a policy organization — honestly, that's probably why we're paired with Pew and some other organizations to help do this — but we're a chef organization, and we wanted to bring in experts to help chefs find the things that are important to them. But we're not out there advocating for this one thing, or that thing. We want to support our main constituents, our chefs, who've been so supportive of us over the years, and help them figure out what interests them.
Not every chef is going to become an advocate –that's not our intent — but increasingly, chefs are interested in these bigger issues, and increasingly they have some input that would help form some larger policy…that certain set of values, beliefs, experience of literally feeding people on the front line.
It's really a natural evolution. They may be stars. Everyone wants to talk to them. Every chef has thousands of Twitter followers. Some have hundreds of thousands of Twitter followers. Now what? Is there somebody who wants to do more with this following they have? How can we help them with that?
So you don't necessarily need to be a celebrity chef to be an effective advocate?
No. Not at all. I think we talked about that a lot. There are some chefs you might recognize from TV in this room here… but then there are some lesser folks who might not be. Most of them are Beard Award winners who are really well-established in their communities.  They're leaders in the sense that they're of a generation that young chefs look up to. We want the people there to go back and inspire other colleagues and other young chefs to have a voice, to think about these issues beyond "What was the price of the pork tonight?", but "What's behind that price? What are some things we can do as chefs, given the opportunity, to make political decisions?"  And I'll just say, that they have been, at every level.
Do you think that political figures in Washington will listen to these chefs?
We have been told by the experts at Pew that not only will they listen, but they eat it up, so to speak! They talked about a recent event they did on Mother's Day, about one of the topics they're very passionate about — the advocacy on the overuse of antibiotics in livestock production. [It leads to the] development of antibiotic-resistant strains of bacteria, which then infect people and can't be cured.
So they created this day on Mother's Day, in Washington, called "Super Moms Against Super Bugs," and had a bunch of people speak with 55 members of Congress. They were all mothers — doctors, pediatricians, mothers of kids who had died of resistant bacteria — and they brought in a couple of chefs. They brought in Mary Sue Milliken and Suzanne Goin, who are both from LA, and are both mothers. It was as if the Congressional leadership just gravitated towards them, because they were — well, they don't even know why.
[I guess that] when they're talking about food, they're talking from a place of a real, authentic place, I think, a place that [politicians] accept. Many chefs are small business owners. They're fixtures in the community, they deal with many purveyors and farmers and all sorts of groups that are of interest to our elected officials for all the obvious reasons, and maybe a few that aren't as obvious.
It's new to us. We've always believed in chefs, and we really feel strongly that they are effective voices for these sorts of issues, because of their role in their community.
It's easy to cast someone with academic, business, or lawmaking credentials as an authority on policy, but while you argue that taste can inspire policy change, that requires people to actually eat the food of someone who's talented in preparing it. Hence, a chef may have less politically-recognized authority. Do you think that this could be an obstacle in your mission?
I don't think that chefs are going to make any of these changes alone. I think that they are eager for this sort of expertise. Today they heard from microbiologists, they heard from some various policy wonks about how [the process] works.
A chef's life can be very small, because 300 people are coming for dinner and you have to be ready when they come. [So] there are values that they take for granted sometimes, in how they interact with their purveyors, and what products they're looking for…the quality that they're used to operating with. They just assume that their basic level of closeness with their food [is the norm.]… I don't believe that there is one person who believes they can make all the change possible, but I think that including their voices among the other voices calling for change is going to be effective.
We saw a demonstration that one tweet from this meeting that went to 20,000 followers, retweeted by two other organizations that brought it to 100,000 followers, and went — as estimated by one of the social media experts here — to 600,000 people in ten seconds, basically. People just like food. It's a really fun and personal way to engage. I don't think it's an accident that recipes and pictures of food are the most popular thing on the internet and in social media. Beyond reason, as far as I'm concerned, and I'm food-obsessed! I mean, I just can't believe it's true, even though I'm glad it's true, and I know it has been true for me.
Do you think this kind of passion can overcome a pretty nasty partisan political environment?
[Laughs] If only it were that easy! You know, one thing we do not know is the politics of the people in this room. I don't actually have any idea. Like I said, we have very different constituencies here: they're small business owners, they work in every region of the country. Political party affiliation was not one of our criteria for inviting people here. I do know that they — I think that whatever party they represent, whatever they can bring to the conversation, is going to be valuable.
[imageviewer id=3036]
Have a tip we should know? tips@mediaite.com