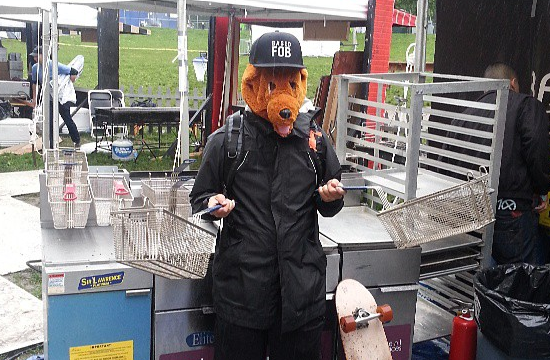 Photo via BaoHausNYC Instagram
Another year, another Great GoogaMooga fiasco that's leaving food lovers less than full come Monday. After last year's now infamous event received widespread criticism for poor organization (long lines, not enough water, major destruction to the park), the event's producers — Superfly Presents, which also puts on Bonnaroo every year — heeded the internet's cries and made a whole host of improvements.
The layout in the park was more convenient, entrances had easier access from public transportation, they even added cell towers in hopes that connectivity would be better (it wasn't, but props for trying). Then the rain came, and in an effort to protect the park's delicate ecosystem, the New York City Parks Department and the Prospect Park Alliance canceled the festival's third day.
So where's the outrage? It turns out it's not with the attendees, one telling us that the event was "way better organized than last year." In a switcheroo from last year, the chefs are the ones stuck with the misery hangover today.
Brindle Room tweeted "thanks @GoogaMooga … for sayin it was a rain or shine event. im minus 15k now." Chefs weren't the only ones who got the rain-or-shine memo. The festival's terms and conditions page warned ticket holders that "the event will take place rain or shine and the holder bears all risks of inclement weather." Now, tickets are being refunded and vendors are left to rattle a wrinkled Starbucks cup.
See, restaurants had to pay up big in order to participate (Dale Talde also told us he put up $15,000 for the event) and did so hoping to see major returns. In fact, he said that the reason he brought Pork Slope to GoogaMooga for the first time this year was "straight fuckin' cash, homey." Adding that "people made money hand over fist last year."
Obviously when the complaints coming out of a festival are mostly about its endless lines, someone's having a good day — and that someone would be the vendors, who blew through their reserves of porky confections way earlier than planned in the inaugural go round. So did Talde's champagne dreams come true this year? "As it's shaping up," he said early Saturday, "not really. I sure hope to God it does, because I'm all in for like $15,000."
Last night, Anthony Falco of Roberta's said "I'm just bummed. I guess that would be the quote: bummed." It wasn't an all-out disaster for his restaurant, though, which hosted a silly LARP-fueled Urban Renaissance Festival in their neck of the woods. "It went really great on Friday and Saturday [and] a lot of the issues which people had with GoogaMooga, which I thought were always kind of overblown, were dealt with and I was really looking forward to a good day today so… bummed."
Robicelli's, a cupcake supplier that tweeted about tediously rain-proofing their booth on Sunday started the conversation about the potential financial losses yesterday, with this tweet: "For all the snark about @GoogaMooga – lots of tiny businesses are losing tens of thousands. Months rent kind of $." shortly after the cancellation announcement came through.
While chefs swapped food and loaded out yesterday, and Superfly cemented a plan to give refunds to ticketholders lest another PR shitstorm swirl up, one industrious blogger, Shirley Chan, created a Google map of all the vendors who "got screwed by the unprofessional actions of Googa Mooga", in an effort to encourage New Yorkers to support the businesses who, like Talde were all in and lost big this weekend. Crowd-sourced support is one thing, but we're wondering if the restaurants will see refunds, as they're the ones actually losing money on the cancellation.
Actually, it sounds like this kind of thing is par for the course for restaurants who bet the farm on one-off food fairs. Eddie Huang tweeted "It's easy to make fun of @GoogaMooga but I will take this opportunity to say pretty much ALL food festivals take advantage of restaurants." Always one to turn our frowns upside down, he followed that up with a risque Game of Thrones reference; "@BaohausNYC took a huge hit on @GoogaMooga but we all knew the risks and things could be worse… Like eating wildling pussy #JonSnow."
The blowback wasn't all internet snark, though. Some companies rustled up strategies to unload their festival fare. Lukes Lobster tweeted that their surplus seafood would be sold at all NYC locations for two dollars off, and Do or Dine offered the foie gras doughnuts they were selling at Googa for half off to anyone with a Sunday ticket. We talked to Justin Warner about those very doughnuts on Saturday.
Not everyone's up to admit they're in it for the money, and Falco had mostly good things to say when we spoke to him post-load-out yesterday. "It's a fun thing when you get to see your friends. That's the best thing about GoogaMooga — the guys from Meat Hook were there and Crif Dogs and Rippers, all my colleagues that I've worked with before and work with now."
Roberta's has a whole team devoted to handling events on the road, so the breakdown and load out wasn't a big deal for them. They even have another event (Madison Square Eats) for the next two weeks, so ingredients won't go to waste. "It's not like it's a disaster at all," Falco said, "this is what you plan for when you do outside events, this is how it works."
He went on with more high praise for the festival, and sincerely hopes to see it continue year after year (Superfly Presents is still assessing whether they'll try again).
"I hope there's another event [that] continues in the future where all of my peers and fellow people of the New York cooking community can get together. Because that was really always what I felt that GoogaMooga was about: all of us getting together in one place [to] have a good time. I would like to see that continue in New York, it was special. […] The gathering of the people, that's such a great idea. So that's something that I really hope continues."
So while the small business owners tally the spoiling piles of pork butt and plan special menus and last-ditch deals to make back some of their original investment, at least one Brooklyn business is not crying in a corner after the Great GoogaMooga Two. "Roberta's doesn't flinch at things like this, Falco said. "We've got too much stuff going on. The first thing was to load out as quickly as possible, and the second thing was to move the Urban Renaissance Faire to a new location and continue the party. The party must go on!" Concluding with an uplifting (and so, so true): "Pizza and party will live forever."
Additional reporting by Tina Nguyen.
Have a tip we should know? tips@mediaite.com