Chick-fil-A Recalls All Jim Henson Toys In The Wake Of Gay Marriage Controversy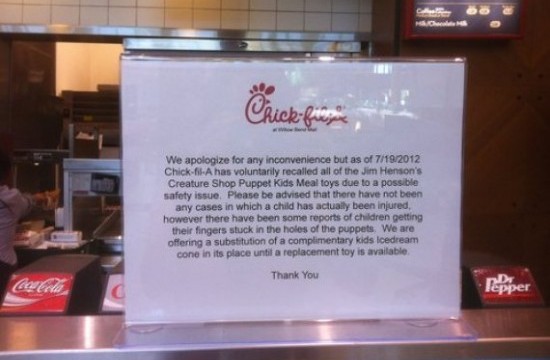 A few days ago, Chick-fil-A suddenly became very, very concerned that the Jim Henson Company finger puppets sold in their kids' meals had become a safety hazard to the dear children of the world. Yesterday, news broke that they had quietly recalled the Creature Shop toys, but that it had nothing to do with the fact that the Jim Henson Company had severed their partnership over the fast food chain's controversial stance on gay marriage, seriously, really.
The Huffington Post reports that while most chains didn't explain the rationale behind the recall, one franchise in Plano, TX had this posted this sign:
"We apologize for any inconvenience but as of 7/19/2012 Chick-fil-A has voluntarily recalled all of the Jim Henson's Creature Shop Puppet Kids Meal Toys due to a possible safety issue. Please be advised that there have not been any cases in which a child has actually been injured, however there have been some reports of children getting their fingers stuck in the holes of the puppets."
How prescient of Chick-fil-A, to make sure that children will never get their fingers stuck in finger puppets.
Chick-Fil-A spokeswoman Tiffany Greenway reiterated to HuffPost that the recall was a decision completely separate from the Jim Henson Company's Facebook announcement, but refused to specify what the safety issue was. So what was that sign all about, then? According to Greenway, the owner of that franchise was "causing confusion" and has since taken it down.
Oh, if only society were not as twisted and godless as Chick-fil-A CEO Dan Cathy claims it to be. (And yes, that hyperlink goes directly to a video of Dan Cathy saying that society is "twisted" because Washington has "not acknowledged God.") If only we had more God in our lives, then our children could inherit fried chicken and Jim Henson finger puppets.
[HuffPost]
Have a tip we should know? tips@mediaite.com