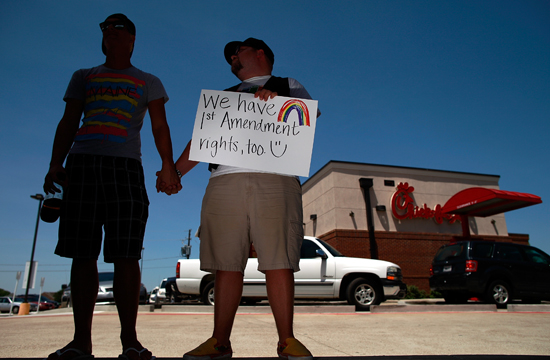 Out of nowhere, months after its CEO made controversial comments affirming the company's stance against gay marriage, Chick-fil-A has quietly begun pulling its funding from prominent anti-gay organizations, according to LGBT advocates in Chicago.
The Civil Rights Agenda claimed to BuzzFeed that in a letter to a Chicago alderman, followed by subsequent meetings, the fast-food chain quietly told him that the WinShape Foundation, its charitable arm, would stop funding groups with political agendas. They specifically singled out Focus On The Family and the National Organization for Marriage, two prominent socially conservative groups, as organizations who would stop receiving their financial support.
"The WinShape Foundations is now taking a much closer look at the organizations it considers helping, and in that process will remain true to its stated philosophy of not supporting organizations with political agendas," the letter to Proco Moreno supposedly reads.
BuzzFeed notes that though Chick-fil-A responded to their questions with boilerplate, they did not deny that the meetings took place, nor that the letters were sent: "We have no agenda, policy or position against anyone," said a spokesman. "We have a 65-year history of providing hospitality for all people and, as a dedicated family business, serving and valuing everyone regardless of their beliefs or opinions."
Given the upcoming presidential election and the drama surrounding it, Chick-fil-A could not have chosen a better time to quietly extract itself from the fast-food culture wars.
(And thus, we quietly retire the tag "Gay Marriage Cluster-Cluck." Though we shall not miss the artery-busting rhetoric and the heated drama surrounding it, we will miss that cheeky little phrase.)
[BuzzFeed]
Have a tip we should know? tips@mediaite.com