CDC: Michelle Obama (And Chefs By Extension) Helped Lower Childhood Obesity Rates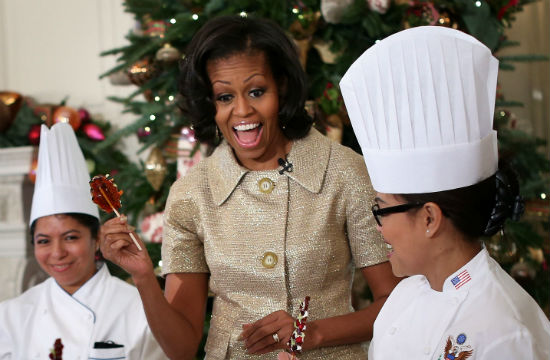 Yesterday, the Center for Disease Control released their annual Vital Signs Report on America's health, highlighting a childhood obesity statistic that was, for once, actually positive: for the first time in decades, childhood obesity rates are actually dropping in several states — specifically, obesity rates among preschoolers.
And who do we have to thank for this? The CDC singled out three trends, but who cares about breastfeeding and the WIC Program? Chefs had a role!
Well, really, chefs had a role through Let's Move!, the White House initiative spearheaded by Michelle Obama that promotes physical activity and healthy eating. The First Lady boasts a magical ability to charm dozens of chefs, including Rachael Ray, Robert Irvine, Jose Andres, Bill Yosses, and British Person Nigella Lawson into teaching children valuable cooking and eating skills. Her efforts (and, by extension, the efforts of those chefs) were singled out by the CDC as integral to the falling childhood obesity rates.
But what if you're a proponent of widdle chubby babies with widdle chubby cheeks? Unfortunately for you, one in eight preschoolers were considered obese the last time the CDC measured America's collective waistline, and childhood obesity causes So Many Health, Economic, And Societal Problems. "This is the first report to show many states with declining rates of obesity in our youngest children after literally decades of rising rates," CDC director Thomas Frieden told USA Today in a press conference. "Although obesity remains epidemic, the tide has begun to turn for some kids in some states. While the changes are small, for the first time in a generation they are going in the right direction."
Though yes, the role of chefs may have been small compared to Beyonce-led gym classes and breastfeeding (seriously?!), it's great to think that their efforts are actually pushing Americans towards a healthier future, much like tiny ants rolling a massive boulder uphill. We'll get there!
RELATED:
WATCH: Michelle Obama And Rachael Ray Hand Out Golden Trays In Mississippi
Michelle Obama To Big Bird In New Healthy Eating PSA: 'You Look Pretty Svelte For A Big Bird'
Rachael Ray BBQs At The White House With Michelle Obama And Bo
Have a tip we should know? tips@mediaite.com