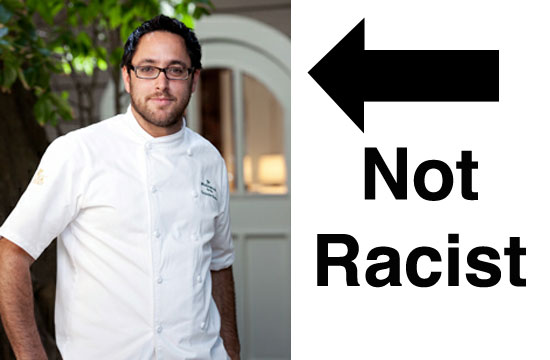 A few weeks ago, a certain "Claudia P." (who is Asian, by the way) had dinner at The Restaurant at Meadowood, the only three-star Michelin restaurant on the West Coast that is not called The French Laundry. Maybe she was also a wee bit dehydrated (she'd been at a wine tasting all day), but whatever it was, she came away disappointed at the poor service. "But this is a three-star Michelin restaurant," you might gasp. "However could this come to pass?"
Let Claudia "The Asian" P. tell you, why through the magic of Yelp!
If you read reviews, you notice that Mr. Kostow came out to visit tables frequently.  We did see him in the floor greeting guests all the time, except 2 tables.  One is us, and the other table with Asian customer as well.  When he stopped by the tablet next to us, a guest from the table literally asked him "who are you?"  I found it ironical.

The dining experience here was a total disaster.  I see absolutely zero passion for people serving our food.  If there could be one word describing the night, I would say "DISCRIMINATION".

This is surely the worst dining experience in my life.  If you are Asian, or at least do not look like an ABC or speak "perfect" English, maybe this is not somewhere you want to be.
Did we mention she was Asian?
Normally we'd offer the snarky comeback, but Meadowood head chef Chris Kostow hit back with the best retort:
Some genius on Yelp accused me of discriminating against Asians because I didn't go by their table-should I tell my ASIAN WIFE? #aaahyelp

— Christopher Kostow (@CKostow) June 18, 2012
But since Twitter is only good for 140 characters, he gave a full statement to Eater, saying that while he could withstand negativity (or even overt positivity) as a chef, it only made sense if the critiques were based in fact:
If everyone loved everything that I did than I would accuse them of feeling a certain way because they believe they should. You see this with certain restaurants for whom the public reception of their work corresponds with their being deemed great in the media writ large.
Which is a rational, even-handed statement and all, but the Asian Wife comment is funnier. (Although maybe Claudia P. was taking pictures of the food the entire time.)
[h/t Eater]
Have a tip we should know? tips@mediaite.com