5 Booziest Moments From John Legend's Wife/Model Chrissy Teigen's Food Diary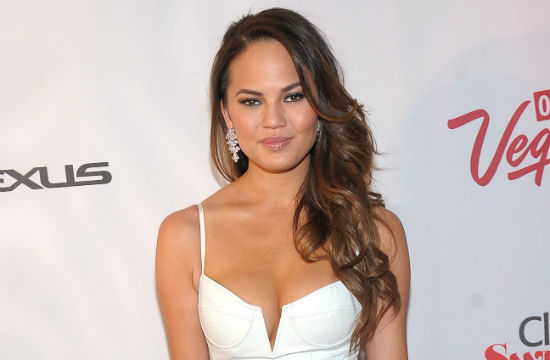 The food diary of a model who was in New York promoting the Sports Illustrated swimsuit issue, hitting Fashion Week, and jet-setting back and forth to Los Angeles to hit the Grammys with her musician hubs. Uhh, yeah this is among our favorite Grub Street "New York Diets" we've ever come across, in spite of the fact that it wasn't from an actual chef.
Make no mistake: Chrissy Teigen is a model, but she's also a half-Thai FOB, so homegirl enjoys food and with gusto. Cooking is her "calming place," and she knows her way around an Ina Garten salmon recipe. But the best parts of her food diary were her unabashed love of airplane food (which she finds "adorable") and how often she copped to drinking her dinner (or breakfast, or lunch).
In prep for Grammy night:
"As soon as I have my first glass of Champagne, it's over. I think I'm severely allergic to Champagne, but I can't turn it down. Usually I try to stick to tequila and red wine…To the Grammys. I had a Starbucks cup full of red wine."
On a red-eye:
"And then I got on that plane and they served personal pizzas, which is a first for an airplane. I was so Xanax'd out that I just kind of drank the pizza. It was very cheesy."
Backstage at Letterman:
"Landed early Monday morning. We had Letterman, so I got my makeup done. I think I had a quick tequila shot before the show. It just settles the nerves a bit. I've been doing this for years now, but my anxiety gets the best of me."
This is what a model's life is:
"We went to the Sports Illustrated launch party at Crimson, and we just had some desserts and s'mores. More than anything we had more tequila."
This is what Crissy Teigan gets when waking up in Vegas:
"We had an early day. I had a double Bloody Mary. It was a splash of 'bloody' and a lot of 'Mary.' Then I had two eggs, an avocado, and regular bacon."
You can read her adventures in full (she eats real food, too, we swear — she has that egg, bacon, and avocado thing every morning smothered in Cholua) here.
Have a tip we should know? tips@mediaite.com