Christopher Kostow Live From GoogaMooga: 'I Challenged Roberta's To A Joust'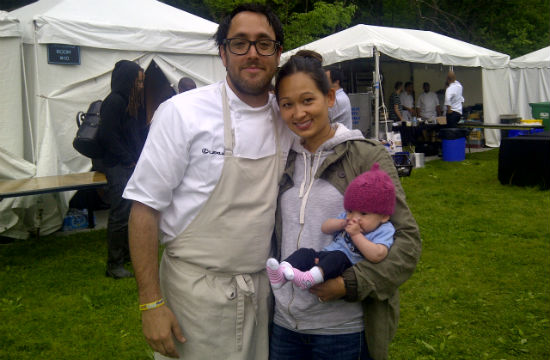 Remember that time an Asian Yelp reviewer accused Christopher Kostow of being racist against Asians, because he didn't stop by her table during a visit to The Restaurant at Meadowood last June? And he referenced his Asian wife via Twitter as proof that the accusation might be unfounded? Well, Kostow has beefed up his argument since last year: now he has an Asian wife and an adorable Asian baby named Daisy, who, at three months old, was braving GoogaMooga in the rain like a champ. (See photo above.)
We chatted with Chris about his first time at the festival, the three-course event he staged to bring a small taste of Meadowood to the East Coast, and his reaction to the Renaissance Faire-themed pizza village erected by Roberta's on the other side of the park. Check out our Q&A below for more.
The Braiser: So this is your first time at the festival.
Christopher Kostow: First time.
And you're coming fresh off a James Beard win! Congratulations. How was that?
It's always better to win than to lose. Anytime that the restaurant gets recognized on the national stage is a good thing.
How's your first Googa going?
It's raining. I haven't really gotten out that much. But everything's been really organized.
And you're staging an event here, correct?
We're doing a series of them. We're doing a little chef's counter. We're seating it like, five times; we've done three of them.
Is there anyone else here you're excited to hang out with or anything you're excited to eat?
I wanna see the Renaissance Faire that Carlo [Mirarchi] from Roberta's is doing. And I challenged him over Twitter to a joust. He has yet to respond. Is he over there? If you see him, tell him I want that joust. As long as I'm the White Knight.
Have a tip we should know? tips@mediaite.com