CJ Puts Stefan On Blast: He Was 'Calling Girls C*nts' All Season On Top Chef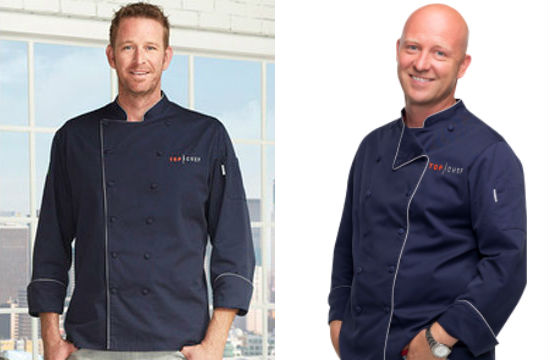 CJ Jacobson stopped by the podcast Food is the New Rock to talk — what else? — music and Top Chef, but didn't really realize he was being recorded for the first half of the show. Of course, this means there was major smack talked, including, most notably, his true feelings on veteran competitor Stefan Richter.
"You know who also fucks up all the time but they're treating like a darling on the show is Stefan," CJ griped. "He's my friend but he's the biggest fucking prick of all time. He looks like a thumb. Thumbelina."
Sure, but all hardcore chefs are sort of arrogant and offensive, right? CJ threw a dig at Kristen's weight at one point during the podcast, for god's sake. (Again, not realizing he was being recorded.) But Stefan had apparently been dropping C-bombs all season long on Top Chef, in reference to his fellow chef-testants. Seethed CJ:
"The the guy has been like the biggest — like, calling girls cunts. He called Josie — he said, 'Don't be a fucking cunt.' A lot of stuff. Like, him just being wasted and coming after people. Like, he's been shithoused. Like, it just ruined the credibility of the show, I think, how much shit he fucking stirs. He looks like just an arrogant little fun guy, but no. The guy is a fucking bastard."
Yikes on bikes. That is a lot of information that is going to take us awhile to process. Point taken, though. Stefan: not the lovable devil painted by The Magical Elves.
CJ also swiftly put to bed suspicions that Stefan and Kristen had hooked up, revealing that after she got kicked off, Kristen immediately admitted how gross she thought he was.
Other juicy bits from the podcast: CJ was approached to do Epic Chef, but NBC forbid him; he staged at Noma because he "wanted to see how good [he] was;" and he does a killer impersonation of Marco Pierre White.
You can listen to the podcast in its entirety here.
Have a tip we should know? tips@mediaite.com