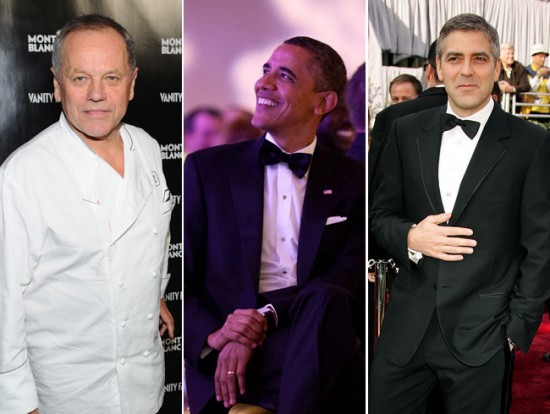 President Obama's supermegablingygrassroots fundraiser held at George Clooney's house and catered by Wolfgang Puck raised nearly $15 million dollars, according to host and Dreamworks CEO Jeffrey Katzenberg.
While $6 million came from 150 Hollywood A-listers paying $40,000 apiece to attend, the rest was raised in the "Obama, Clooney and You" drawing. The two winners, randomly selected out of tens of thousands of people who donated as little as $3, got to sit at the head table with Clooney and Obama, where Puck possibly lavished them with attention and fed them pomegranate seeds by hand.
Sadly, for security purposes, Puck and his crew were sworn to secrecy about what they would be preparing beforehand.
Regardless, $15 million is a pretty ridiculous amount of money. According to the LA Times, it's the largest amount ever raised in one night for a presidential campaign. It's more than Mitt Romney raised in the last month (if you avoid Super PACs, because come on, that doesn't really count.)
And to cap it off, the fundraiser gained extra significance after Obama's historical announcement of his support for same-sex marriage on Wednesday, which he briefly mentioned it in his remarks at the dinner:
"Obviously yesterday we made some news, but — (applause) — but the truth is it was a logical extension of what America is supposed to be. … Are we a country that includes everybody and gives everybody a shot and treats everybody fairly, and is that going to make us stronger? Are we welcoming to immigrants? Are we welcoming to people who aren't like us? Does that make us stronger? I believe it does."
Among those attending, according to the LA Times: Robert Downey Jr., Diane Von Furstenberg, Trina Turk, Barbra Streisand, James Brolin, Tobey Maguire, Billy Crystal, Jack Black, Salma Hayek, Mayor Antonio Villaraigosa and Rep. Howard L. Berman.
And among those who believe that Clooney should be photoshopped out of photos with the President for the purposes of inspirational street art, at least according to President Obama: Shepard Fairey.
Have a tip we should know? tips@mediaite.com