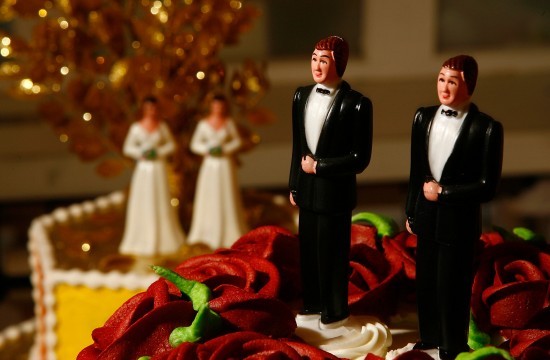 Is this the LBGT-food products cultural zeitgeist? Because a Colorado baker recently created a scandal by refusing to bake a cake for a gay couple's wedding.
(We'll give you a moment to get all of your Soup Nazi, Marie Antoinette, and Portal references out of your system.)
When Jack Phillips turned Dave Mullin and Charlie Craig away from a cake tasting at his bakery — "My first comment was, 'We're getting married,' and he just shut that down immediately," Craig recounted to WPTV — the angry couple took to Facebook to voice their indignation.
"It's just a cake," Mullin said. "We've also had supporters say, 'We don't support gay marriage but not selling a cake to a gay couple is wrong."
But despite 1,000 angry Facebook messages and a large protest at the Masterpiece Cake Shop in Lakewood, Co., last Saturday, Philips is adamant in his decision not to "compromise" his beliefs by selling a gay couple wedding cake.
"If gays come in and want to order birthday cakes or any cakes for any occasion, graduations, or whatever, I have no prejudice against that whatsoever," Phillips affirmed. "It's just the wedding cake, not the people, not their lifestyle."
Also, his business has doubled ever since the story broke, says Phillips, so take that, gays! "We had about twice as much business as normal [on Monday]," Phillips said to other local station KDVR. "There are people coming in to support us."
Protip, protesters: Go complain on Yelp! It's the best way to shut down a business. Maybe.
[NYDN]
Have a tip we should know? [email protected]