Congressmen Caught Boozing, Should Name the Newest #FakeDCBars 'Looming Shutdown'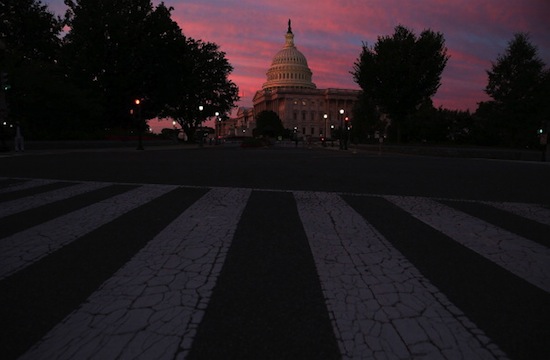 We don't want to ruin your Sunday cup of coffee and all, but this whole government shutdown thing isn't looking good for any one of us. And while we may drown ourselves in booze to remind us of a time when government was good and helped people, it sounds like some Congressmen were doing the same thing last night in the House of Representatives.
There were numerous Tweets from political reporters last night that while the House of Representatives was in crisis mode, they were throwing back a few drinks too.
I'm not over exaggerating when I say I can smell the booze wafting from members as they walk off the floor.

— Ginger Gibson (@GingerGibson) September 29, 2013
For all those asking for names, sorry, I didn't get close enough to figure out the source of the smell.

— Ginger Gibson (@GingerGibson) September 29, 2013
I def saw more than 1 member of congress putting a few back on Penn earlier. Ran into 2 in the liquor store.

— KateNocera (@KateNocera) September 29, 2013
Which, perhaps rightly, angered some people.
Congress boozes, we lose RT "@HuffingtonPost: Congressmen apparently booze as government shutdown looms http://t.co/xlIJhSh1lm"

— Jill Fredel (@badgerjill) September 29, 2013
But obviously, what we want to know: in which one of the #FakeDCBars were our Congressmen boozing as the government hurtled towards another shutdown? Bipartisan? Crisis? Obamacare's?
And so it turns out, Elise Foley,* the author who created #FakeDCBars for us all to enjoy, had it right all along.
Ahem #fakedcbars #neverforget RT @igorbobic: They should name a bar in DC The Looming Shutdown. Wait, no, no they shouldn't. Unfollow me.

— Elise Foley (@elisefoley) September 27, 2013
*Full disclosure: I've known Elise Foley for years as a friend, and consider her to be awesome for many reasons, including #FakeDCBars.
RELATED:
Meme Watch: The 10 Best #FakeDCBars Tweets
Sam Kass Denounces GOP for Gutting SNAP
Marc Vetri Hangs Out With the President and Demands Congress Set a Budget (No Biggie)
Have a tip we should know? tips@mediaite.com