'Critics Exposed' Blog Seeks To Become the V of Bad Yelpers and Unqualified 'Food Critics'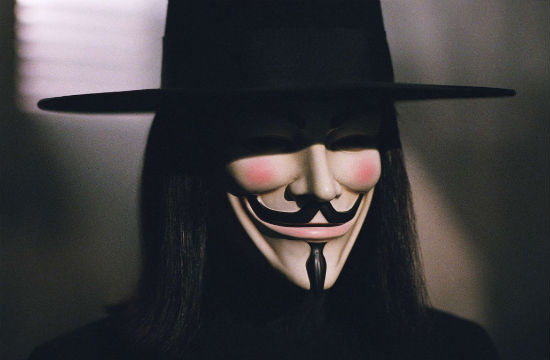 BOY ARE WE GLAD WE ARE NOT FOOD WRITERS. Sure, it's obnoxious to identify ourselves on dates as "pop culturalists" and give our best Julia Roberts Laugh of Self-Awareness as people gawk, "wait, celebrity chef gossip is a thing?" But at least we're a frivolous media entity safe from the hammer of a blog launching in 2014 entitled "Critics Exposed," which sounds completely terrifying.
Critics Exposed seeks to put every terrible, self-proclaimed "food critic" on blast by publishing their credentials (or, we're guessing, lack thereof) for everyone to see:
"WE ARE WORKING ON AN INTERACTIVE PLATFORM TO EXPOSE SELF-PROCLAIMED 'FOODIES' AND 'CONNAISSEURS' IN ORDER TO RESTORE THE QUALITY OF PROFESSIONALISM AND EXPERTISE OF THOSE WHO GIVE OUR INDUSTRY A VOICE AND A DISPLAY.

OUR INDUSTRY IS BEING POLLUTED BY NON-PROFESSIONAL, AND THEREFOR UN-FUNDAMENTAL, CRITIQUE OFTEN SPREAD BY UNEDUCATED AND UNSKILLED PEOPLE WHO PROFILE THEMSELVES AS CRITICS OR AS SO CALLED 'FOODIES'.
WE WILL EXPOSE THEIR NON-EDUCATIONAL BACKGROUND TO BRING CONTRA-BALANCE TO THEIR STATEMENTS AND STORIES.
WE WILL ALSO BRING TO MAP THE DISTINGUISHED AND HIGHLY REGARDED PROFESSIONALS WHO DO HAVE AN EDUCATIONAL AND HANDS-ON BACKGROUND AND DO UNDERSTAND AND RECOGNIZE OUR INDUSTRY AS THEIR OWN."
This inaugural post on the blog was published yesterday, and references the tale of a Philadelphia foodie/blogger trying to hustle a free meal from a restaurant on Christmas in exchange for All The Soc Medz Coverage.
And lest you think this, too, is another throwaway blog to add to the white noise, it's already gotten Twitter follows from Roy Choi, Kat Kinsman, and Eater. We'd put them on your list of Blogs to Watch Out For, especially if your main source of joy in life is being a Yelp Demon.
Have a tip we should know? [email protected]