Dale Talde On Old Bars, New Top Chef Friends, And Why He Can't Swear At Elmo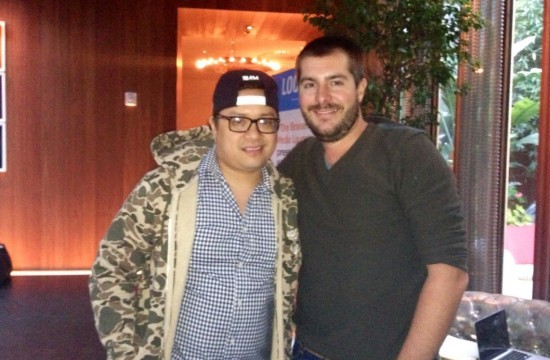 Dale Talde rolled into The Braiser Media Lounge ready for a few rounds of interviews before a day of dim sum making tomorrow. (And then he hugged Harold Dieterle, which made all of our Top Chef fanfiction dreams come true.) As a random playlist of early 90's hip hop blared in the background of the Dream Hotel, we chatted with the Park Slope restaurateur about every subject under the sun — even what he'd wear if he were to dance to a Beastie Boys song blaring in the background. (Answer: Osh Kosh B'Gosh overalls.)
The Braiser: How has The Wine & Food Festival been so far?
Dale Talde: I wouldn't know, my first event is tonight. So we're prepping up for the Brooklyn Backyard with Adam Richman. Hopefully it's going to be a good turnout, a lot of fun.
So are these events more opportunities to hang out with all your chef bros you never see, or to meet and mingle with fans?
I think it's great for the restaurants, a good way to get the restaurants' names out there. It's a good way for people to try the food if they haven't been in yet. Hopefully, you get people into the restaurants. It's really fun for all my cooks who really bust their ass and don't get to see a lot these events, just to see what's out there, see chefs that I admire and they admire also.
Who do you admire? Who are you looking forward to meeting?
I don't know what it's going to be like when I get out there, but I did see someone checking out Alain Ducasse, and that's always been a big one for me. For me, anytime that I get to see Jean Georges or I get to see the guys I really look up to, like Eric [Ripert]…I would like to shake hands with a guy like that. That kind of sets it up for all of us.
Pork Slope is styled after a classic American roadhouse. Did you have a lot of experiences around road houses growing up or are you just a really big fan of Patrick Swayze movies?
Yeah, I'm a big fan of the movie. I grew up in Chicago, and where Chicago is this ultra-avant garde delicious food town that has the best of both worlds: avant garde and just really great restaurants. When you get outside of the city limits… there are some really divey borderline roadhousey kind of bars. That's what we modeled it after. I loved Roadhouse, but that was also one of the inspirations. Just these cool local clubs and bars that had food.
This one place in particular, Chasers, was open until 3 a.m. 365 days a year. So, we would get done with Christmas around eight or nine at night and me and my brother would have a couple of beers, my parents would go to bed, put my nephew to bed, and we would just go to these places and we would see everybody doing the same thing that we were doing. It was funny because there was no age limit there. You would see people in their forties or fifties doing the same thing we were doing. But I am a huge fan of Roadhouse. I think it's one of my top three movies out there. [On] the first dollar that every establishment gets, that we hung up, my friend Roy wrote, "Be nice… until you don't have to be nice." And that's a quote from the movie, and kind of what we live by.
Would you like to be Patrick Swayze, secretly?
God rest his soul, absolutely. The guy can dance, he can fight, he can mold pottery. The guy was a very talented dude.
If we were in some sort of Hunger Games and the government was going to take away your restaurant unless you went back into a cooking competition of your choice, what competition would it be and how would you win?
I would go down for eating. I would do an eating competition. I'm pretty good at it and if I lose it's like, "I lost, but I'm pretty full. I'm nice and full." But I know my business partner, David [Massoni], and John Bush and even my sous chef Drew [Del Vecchio] are like, "We could eat," and I'm like, "I know you guys can eat. Let me put up some of my marathon eating days versus some of your marathon eating days. Mine won't blow yours out of the water, but mine will come pretty close." I've had some marathon eating sessions, epic 14-hour lunch and six dinner marathon eating days. So, I'd do an eating contest, because I think I could do it.
What if your enemy was [Japanese competitive eater] Takeru Kobayashi?
For me, it's a marathon, it's not a race. So, if you want to eat 45 hot dogs in a row, that's cool. [An example of a day that actually happened:] We'd sit down at The Modern and do a five hour lunch, take a 30 minute break, go right into Momofuku Ssam… do a three-course dinner there, rush out of there and go right into Tailor. Do the entire tasting menu at Tailor, leave Tailor. Go to Morimoto, do a hundred dollar sushi combo and three ramen soups. And [we were] drinking the entire time. I mean the entire time. When we went to The Modern, Belinda Chang was still the sommelier there. She pours a 1981 Riesling. That started our meal. That started the day. I don't know that that's the actual white that it was. All it said was 1981; there was no label on it. So, I feel like I can eat. If Kobayashi wants to race, we can race. I'm pretty sure I could go the marathon with him. We definitely ended the night with Fernet and Amaros. We knocked it out.
Life After Top Chef is airing right now and you obviously aren't on it. Were you approached to do it?
I think we were all candidates. Those kinds of things are out of my hands. They have an idea of who they want. I think it's a great cast. I think Jen and Fabio and Richie and Spike are definitely great chefs with big, big characters.
Are you done with the TV thing?
I won't say I'm done with it, but my focus is definitely on the three restaurants that we're operating and running. I played the competition, but this to me is the actual reward. I've always wanted this. A friend of mine hit me up on Facebook and was like, "Hey, we haven't talked in a while," and I'm like, "Oh yeah, good seeing you. How's everything?" And she said, "Really great to see you doing what you said you wanted to do." It's happening now, and I'm not losing sight of that. I want to continue to do it, and I want to continue doing it well. This to me is more my focus — owning, operating restaurants, making them successful, having fun, offering something to the neighborhood. That's my main focus right now.
Why did you decide to open up all of your restaurants in Park Slope?
I live near there, but for me it's more like, does the East Village need another restaurant? Why not go to some place that is under-serviced? Why don't you go to a neighborhood that needs more to do. It might not be the most glamorous neighborhood. I love Park Slope. Other people thinks it's strollers and whatever. That's cool, they can think that. For me it's more that there's a need there. There's always a need, there's still is a need. Terroir just opened up across the street, Brooklyn Central, these friends of mine opened up a pizzeria down the street, Du Jour Bakery opened up down the street. There was a need. We thought we could bring something that the neighborhood didn't have.
On Top Chef, one of our favorite episodes of the entire series was when the Muppets came on and you were saying that you didn't really know how to interact with the Muppet when it was heckling you.
What are you going to say, "F*** you, Elmo?" You can't say that. It's Elmo. My niece is watching this. My niece is two. You can't tell him to go f*** himself. No. Oh, you're real funny. You don't like my cookie. What do you say to that? You sit there and take it, because he's an icon. And I have a slight case of Tourette's. I just let it go. It's hard to watch what I say because I work in restaurants and restaurants are so in-your-face. How do you respond to a Muppet when you know there's actually a person that's saying it?
Yeah, Elmo is secretly this huge black guy.
He is! And you say something to him, and all of a sudden, the Elmo voice goes away, he puts it down and he gets up, "You got a problem, dude?" No, I was talking to — I didn't think you were — you know, it was more for Elmo, but I'm sorry that you… What do you do? [You're] talking to the muppet like it's actually a person, but it's actually a puppet. Which is actually the point. It's a weird situation to be in.
If you could sneak off to a room in The Dream Hotel with anyone at The Wine & Food Festival for an hour, no questions asked, who would it be and why?
Rachael Ray. I'd like to get nasty with her. It would have to be her.
Have a tip we should know? tips@mediaite.com