Daniel Boulud Announces Partnership With Air France
Plane food is awful, but it looks like it's going to get a lot better, and pretty quickly. Back in February, Danny Meyer's Union Square Hospitality Group announced a partnership with Delta Airlines. The group, which operates restaurants like Gramercy Tavern, Blue Smoke, and Shake Shack will be handling food on all international flights leaving from JFK.
Now, Daniel Boulud is getting on board. Starting today and for the duration of one year, Boulud will be creating dishes for Air France's La Premiere (first class) and Business cabins on board long-haul flights from 11 North American cities, including New York, Los Angeles and Washington, DC, San Francisco, and Miami.
"Customers are more interested than ever in enjoying the best quality food, whether in a restaurant or on-the-go, and that includes in-flight," said Boulud. "Air France has always maintained very high standards for culinary excellence on board, which I have enjoyed many times as a passenger between my home in the US and my native France.  I saw this as a wonderful opportunity to bring together our expertise and create a better in-flight experience for passengers. I hope Air France travelers will find my dishes to be soulful and delicious!"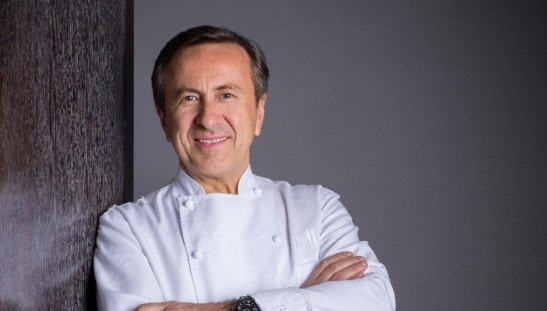 In La Premiere cabin, there will be dishes which will change by season. Every three months, a new dish will be offered from these five choices:
·         Atlantic Lobster, Curried Coconut Sauce, Black Rice and Bok Choy;
·         Provencal Lamb Chop, Zucchini Pesto, Tomato, and Cheese Polenta;
·         Tomato Braised Chicken, Four Bean Medley and Basil;
·         Peppered Beef Tenderloin, Cranberry, Squash and Spinach Custard;
·         Seabass in Vine Leaves, Za'atar, Farro and Grape.
In Business class, dishes will change every two weeks, and one of the following dishes will be offered:
·         Salmon with Fennel, Chickpea and Sumac;
·         Moroccan Chicken Tagine, with Lemon, Cauliflower and Couscous;
·         Braised Chicken Basquaise with Chorizo, Peppers, and Saffron Rice;
·         Braised Lamb with Spring Root Vegetables and Edamame.
A meal at Boulud's flagship restaurant Daniel probably costs about as much as an airline ticket. Now, you'll be able to eat Boulud's food and get a trip to Paris out of it for the same cost.
Have a tip we should know? tips@mediaite.com