Danny Bowien Gets Slammed with Bad Mission Chinese Review, Will Probs Just Stick to Burritos For Now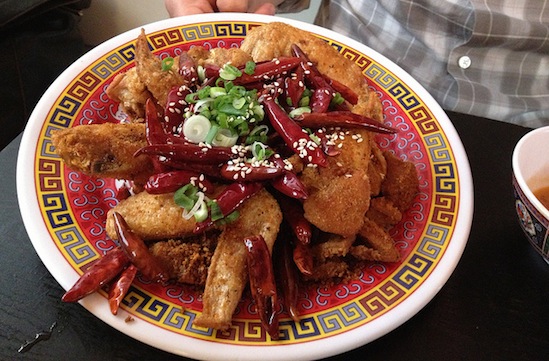 For all the success that Danny Bowien and Mission Cantina are experiencing in New York, the West Coast ain't so impressed with his original concept, Mission Chinese Food.
In case you don't remember, Bowien opened Mission Chinese Food in San Francisco nearly four years ago, and then opened Mission Chinese in New York shortly after. (It's still closed after a mice infestation back in November — so uh, Dominique Ansel, you might want to consult this guy on reopening.) And back when San Francisco Chronicle restaurant critic Michael Bauer reviewed Mission Chinese in 2011, he gave it a whopping three stars for the food. Now, in the latest review, Bauer's knocked it back down to 1.5 stars, calling the divey Chinese restaurant, while, a dive. And that's not a compliment.
Bauer notes many of the popular dishes, which have "showed how the cooking has devolved" — and it's probably never good to compare anything edible to sawdust. The "surroundings" were still "rickety," the dishes "fell flat." In conclusion:
But it's a high-wire act: If one element is off, the entire effort falls flat. That's when the counterculture vibe loses its charm, and Mission Chinese Food becomes nothing more than a greasy spoon.
Eeeeeouch. And just to compare, the last Pete Wells review of the New York Mission Chinese, back in 2012, earned two stars. So uh, let us know how those burritos are going, Danny.
RELATED:
Danny Bowien in Instagramming Food: 'There's So Many Other Things In Life You Can Take Pictures Of'
Artist Paints over Own Mural at Mission Cantina after Danny Bowien Removes Signature
PHOTO: Danny Bowien Had A Ridiculously Cute Baby Yesterday
Have a tip we should know? tips@mediaite.com