Danny Meyer's New Delta Partnership Results In Sky Barbecue; Is There Anywhere On Earth He Won't Go?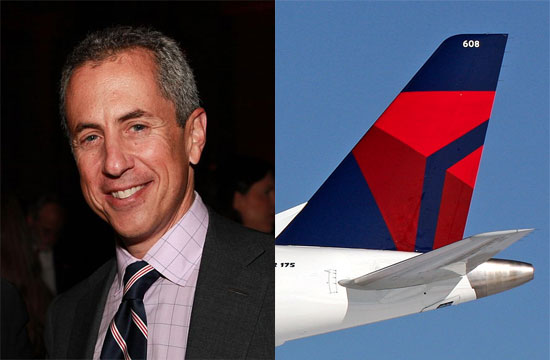 Is there anywhere on Earth Danny Meyer can't reach? He's got restaurants everywhere in New York, Shake Shacks all over the world, and now, thanks to a partnership with Delta Airlines announced today, he's going to be in the freaking sky. Yes, that is right: you may experience some constant, gentle pressurization in your cabin.
The airline announced today that Meyer and his chefs from barbecue joint Blue Smoke, Kenny Callahan and Jeffrey Held, will be creating a menu for Delta's BusinessElite Express customers flying between New York's John F. Kennedy Airport and London's Heathrow Airport. Due to their inherent fanciness, BusinessElite Express passengers also have access to a flatbed seats, allowing them to eat good barbecue while lying down, as they simultaneously soar over the Atlantic ocean in a metal bird.
Now, we've never really thought of "sky barbecue" as A Thing People Would Eat, but really, why not just make barbecue this ludicrously decadent? Why not eat barbecue while lying down in a plane, as beautiful flight attendants give you, we dunno, whiskey sours and foot rubs? At this point, Danny Meyer's pushing hospitality into new frontiers — both in terms of professionalism and physical spaces on the planet Earth — should we really be surprised by what he comes up with? Hell, he might even go into space next.
(New idea: Richard Branson hires Danny Meyer's Union Square Hospitality Group to bring Shake Shack to outer space on Virgin Galactic. You're welcome, Danny Meyer. We'll take that consultant's fee now.)
[PR Newswire via Eater]
RELATED:
Danny Meyer Opens London Shake Shack Right After America Celebrates Its Independence From England
PHOTOS: Danny Meyer Brings Shake Shack, Root Beer To Istanbul
WATCH: How Danny Meyer Helped Prevent The 2002 MLB Player Strike
Have a tip we should know? tips@mediaite.com