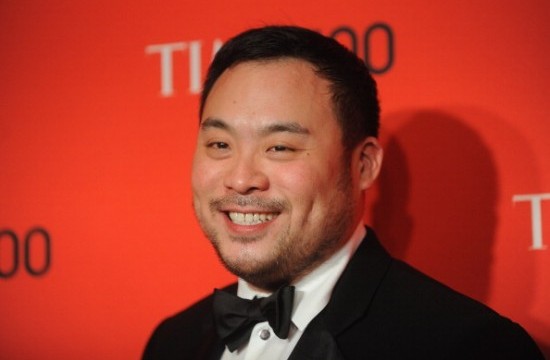 Okay hello, this is a cool but strange thing that a celebrity chef is doing these days: Pitchfork revealed that renowned chef and highbrow media juggernaut David Chang will be a guest collaborator on the highly anticipated hip-hop album Deltron 3030: Event II. 
Chang, whose forays into pop culture include the food magazine Lucky Peach, will appear along with a group of other highly unusual collaborators on the supergroup's new album. Seriously, just look at this list and try to connect the conceptual dots:
In addition to Damon Albarn, Mike Patton, the Lonely Island, Rage Against the Machine's Zack De La Rocha, Emily Wells, and Jamie Cullum, there's also appearances from actors David Cross, Amber Tamblyn, Mary Elizabeth Winstead, and Joseph Gordon-Levitt…
According to Pitchfork, Chang's track with Deltron 3030's Del the Funky Homosapien, DJ Kid Koala, and producer Dan the Automator is titled "The Future of Food" — an apt name for a song in an album about a techno-dystopian future. As Del described the concept of the group's second album in a press release: "Everything's destroyed, and you just see the remnants of our technology. The streets are run by criminals, the police are outnumbered and outgunned, and we're like pirates, running rogue, doing what we do to survive."
If this is the project where David Chang talks in meticulous detail about how to make Soylent Green from people, we're big fans already.
RELATED:
Buy This New Issue Of Lucky Peach, Or Ted Nugent Will Shoot This Cat
Last Call: Magnus Nilsson Makes Frankenchicken, Violates The Laws Of Nature
Have a tip we should know? [email protected]