David Chang Is Sick Of You Beer Snobs, Wants to Drink His Bud Light in Peace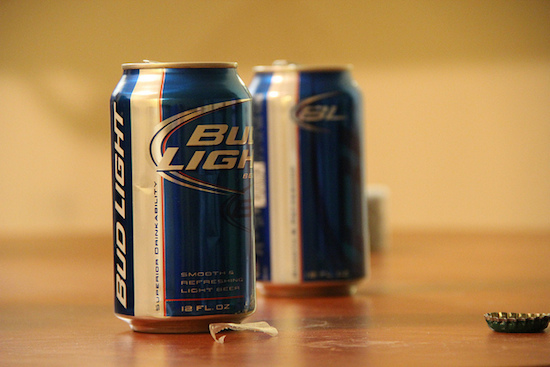 There's a reason they call it "the champagne of beers." (No wait, that's Miller High Life. Get your shitty beers in order!)
David Chang writes for GQ just how very much he's sick of beer snobs, not to mention coffee and wine snobs, too. Really, Bud Light is the only drink of choice for this guy. (With some Diet Coke on the side.) So many good beer snob stereotypes to share:
Beer snobs are the worst of the bunch. You know the old joke about cheap beer being like having sex in a canoe? I will take a beer that's "fucking near water" every night of the week over combing out my neck beard while arguing about hop varieties.
Yeah bro, neck beards are the worst. But also, shitty beers are the best for food pairings — way more than your barrel-aged saisons and what have you.
For all the debatability of my rant here, let me make one ironclad argument for shitty beer: It pairs really well with food. All food. Think about how well champagne pairs with almost anything. Champagne is not a flavor bomb! It's bubbly and has a little hint of acid and tannin and is cool and crisp and refreshing. Cheap beer is, no joke, the champagne of beers. And cheap beer and spicy food go together like nothing else. Think about Natty Boh and Old Bay-smothered crabs. Or Asian lagers like Orion and Singha and Tiger, which are all perfect ways to wash down your mapo tofu.
Fair enough, we are getting hungry at this point. So really, Chang only wants Bud Light. Nothing else. Not even a Mikkeller beer, which really is a sin against good beer, but … leave the guy alone, ok?
*cracks open the last IPA in the fridge … Sorry we're not even close to sorry.*
[GQ]
RELATED: Andrew Zimmern Warns Against Beer Snobbery
America's First Strip Club Microbrewery Opens, Stereotypes and Sexism Be Damned
Thanks to Food Blogger, Big Brewers to Start Listing Ingredients for the First Time
Have a tip we should know? tips@mediaite.com