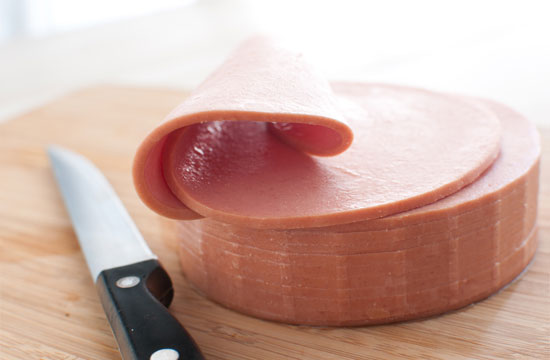 In his first column for GQ, David Chang simultaneously introduces America to his new favorite meat, and trolls the hell out of them at the same time, by declaring the Next Big Thing will be…bologna.
(Insert old man bologna/baloney puns here.)
Tracing the history of the versatile bologna to its beginnings as mortadella ("the mother of all fatty whipped-pork sausages"), Chang argues that bologna can be, and should be, considered Actual Food. " It's a blank canvas of pureed meat, ready for inspiration to take hold," he writes. You can make it from duck, veal, chicken, pork, beef, and a variety of game. You can smoke it, use different spices, change just about anything about it."
So why does bologna have a reputation of Sucking So Bad? According to Chang, it's because cold-cut bologna is sliced too thick:
The main reason people dislike bologna is its texture. That childhood bologna—you know, the kind in the yellow package—is cut way too thick. Believe me, even the best mortadella sliced like supermarket bologna would be gross cold, too. The basic rule when serving bologna cold is: Slice it as thin as possible.

The opposite is true for bologna served hot. At Wilensky's Light Lunch in Montreal, the "special" is a pressed kaiser-like roll, mustard, and a few thick slices of beef bologna and salami that have been lightly warmed through. It's a high point of gastronomy, as vexing in its deliciousness as a Zen koan.
My baloney has a first name. It's "T-H-E-N-E-X-T-H-O-T-T-R-E-N-D."
[GQ]
RELATED:
WATCH: Aziz Ansari Gets Racially Profiled In David Chang's New Show
Hugue DuFour Live At GoogaMooga: We're Not Going To Offend People With Horse Meat
David Chang: Puffy Coats Nearly Ruined Canada's Momofuku Empire
Have a tip we should know? tips@mediaite.com