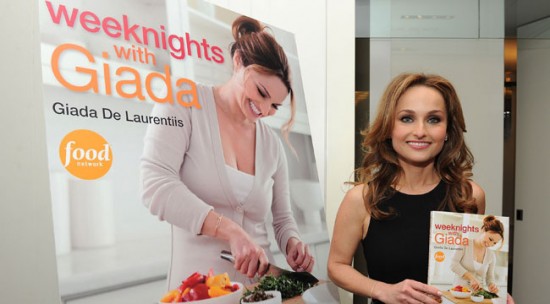 While nursing a pinot buzz this morning on The Today Show, Kathy Lee Gifford and Hoda Kotb announced the 2012 Daytime Emmy Award nominations. Among the numerous awards for things like Best Soap Opera Hair (really) were noms for some of our favorite Daytime TV Chefs. So how do the food personalities stack up?
Giada De Laurentiis tops out the list with a total of five nominations for her Food Network Series Giada at Home, including one for Outstanding Culinary Program and one for Outstanding Lifestyle/Culinary Host. Close behind is Rachael Ray (recently dubbed Most-Media Covered Food Personality of the Year) with three noms, including one for Outstanding Talk Show Host (and one for Outstanding Hair…if there was an award for Outstanding Teeth, she'd probably snag that one, too). Sandra Lee's Semi-Homemade Cooking also garnered a vanity nomination with Outstanding Achievement in Makeup.
Rounding out the Outstanding Culinary Program category alongside Giada are Bobby Flay's Barbecue Addiction, Guy's Big Bite, and Sandwich King. Rick Bayless' (Mexico One Plate at a Time), Sandra Lee, and Paula Deen join her in the Outstanding Lifestyle/Culinary Host category.
Giada and Rick's shows are also duking it out for the Outstanding Directing in a Lifestyle/Culinary Program, along with PBS's Cook's Country and America's Test Kitchen.
In all, Food Network earned itself 12 nominations. Not shabby! We're secretly rooting for underdog Rick Bayless to pick up a couple of awards, but Giada's the Julia Roberts of food TV, so the mole master's chances seem slim.
Check out Hoda, Kathy Lee and Entertainment Weekly's Jessica Shaw dishing the rundown. (Sadly, only Rachael Ray gets a shoutout…the ladies are very preoccupied with who was robbed in Soap nominations.)
Visit msnbc.com for breaking news, world news, and news about the economy
Have a tip we should know? tips@mediaite.com