Giada De Laurentiis's Beauty Secrets: Washes Face With Olive Oil, Washes Hair Never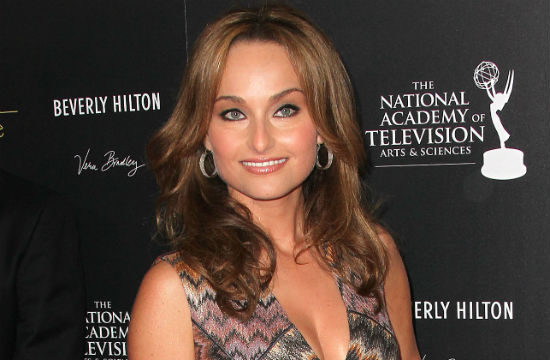 In light of her new beauty spokeswomanship with Clairol Natural Instincts, Giada De Laurentiis sat down with Fitness Magazine to dish her beauty tips and tricks. Among them are some predictable (washing her face with olive oil? Sigh…) and not-so-predictable (she actually only washes her hair once a week) secrets to looking lovely as Food Network's hottest MILF.
She insists her #12 Toasted Almond-tinted locks benefit from only being washed once a week. Oh, and feel free to skip the brushing part, too.
"I get a blowout once a week and make it last the full week," Giada told Fitness. "I have curly, dry hair, and if I washed it more than that, it would break. And my blow-dry looks better as it sits — the second, third, fourth day. The dirtier it gets, the better! In the morning, I don't brush my hair: I just flip it over, back up and go."
Her skin-care tips include misting her face with Evian water to rehydrate instead of re-powdering, "day or night, rain or shine" sunscreen application, and a homemade face wash we'd find odd, if it wasn't Giada. Of course she maintains her daily glow by sautéing herself in olive oil.
"I exfoliate every single night with a mix of olive oil and baking soda. The olive oil gives moisture and baking soda takes out any other stuff on my skin," she dished "It gives my face this wonderful glow, and I don't have to wear as much makeup during the day."
And, finally, the Food Network home-cook is often grilled on how she keeps her itsy bitsy bod while cooking heavy Italian food all day. Rather than keeping a spit bucket nearby at all times for her dozen takes of pizza-tasting, Giada just doesn't eat full meals, you guys.
"I eat a little bit of everything and not a lot of anything. I taste a lot, but I don't really eat full plates of food, ever," she reveals. Oh, and then there's the extensive exercise sched: "I do yoga four days a week, usually at 5:30AM before work. And I paddle board with my husband. It's great core exercise and very Zen because you get away from land for a bit, which is quiet and peaceful."
Yoga at 5:30am? She totally had us going with her whole, "I'm a real girl just like you who never does her hair!" shtick until just then. But major props to Giada for her dedication to fitness. We prefer the "eat everything" and "do nothing" method. Pasta hips forever.
Have a tip we should know? tips@mediaite.com