Did Obama Throw Shade at Trump by Giving José Andrés a National Humanities Medal?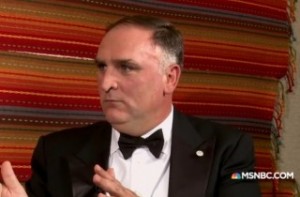 Before you get angry with us, we'd like to let you know that we believe firmly that José Andrés is an excellent chef. He gave the United States the Spanish food experience we know and love. His restaurants are fantastic. He's also doing good for humanity. As chair of LA Kitchen, he works to reduce food waste, provide increased access to nutrition, and helps create culinary jobs for unemployed men and women. He is unequivocally and entirely deserving of any award bestowed upon him.
Having said that, we also think President Barack Obama may be throwing some shade at Donald Trump by honoring Andrés with a National Humanities Medal. According to a press release, he will be recognized "for cultivating our palates and shaping our culture. He has introduced new and vibrant ingredients to our Nation, whether through his innovative techniques in the kitchen, his work on clean cooking technology and access to education, or the inspiration he provides to new Americans. "
Obama's admiration and respect for Andrés is well-documented. In 2014, The president honored the chef with the "Outstanding American by Choice" award, and he has called him the "quintessential American success story."
It is not lost on us, however, that Andrés is feuding with Trump, the GOP nominee. As one of the top chefs in Washington, D.C., plans were in order for Andrés to open the anchor restaurant in the new Trump hotel there. After Trump made comments disparaging Mexican immigrants and calling them "immigrants" and "rapists," Andrés pulled out of the project. Trump hit Andrés with a $10 million lawsuit, and Andrés is counter-suing for $8 million.
Grub Street called the award a "casual middle finger" from the President. We're not sure, but the timing is curious.
[image via screen grab/MSNBC]
[H/T Grub Street]
Follow Dana Eisenberg on Twitter.
Have a tip we should know? tips@mediaite.com